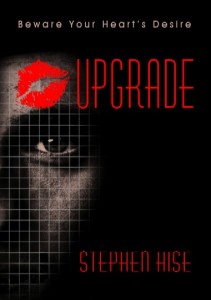 UPGRADE
by Stephen Hise
Psychological Drama/Suspense
Available from Amazon and Smashwords.
A wealthy but homely software designer undergoes a mysterious procedure that makes him attractive to others. With his newly-found good looks, he makes up for years of rejection by indulging in every opportunity. Emotionally unprepared for this bounty – he fails to realize his behavior has consequences beyond anything he imagined.
Book excerpt:
Brent understood there would be no scalpel, no bandages, no recovery time. The whole thing would be accomplished with some sort of concentrated sonic pulses or something like that. He understood that he would have to be unconscious for the procedure, but only to assure his complete immobilization so there could be no mishaps with the microadjustments.

He was told that he would become immediately attractive to people he'd never met before, or those who had not seen him in a long time, but that the effect would be more gradual on those to whom his face was familiar.

"I want this. Let's go forward," Brent said, anxiously.

The doctor pursed his lips and squinted thoughtfully at Brent for a moment. "You must be sure, Mr. Schoenfeld. I must warn you that beautiful people have their own crosses to bear. This procedure will merely address the issue of your appearance to others. People often think this will bring them happiness, just as so many believe wealth will bring them happiness, but you know yourself that this is not true."
What others say:
"Stephen Hise's Upgrade is an entertaining page-turner that will leave you stunned (in a good way) as you finish the final page."  – Brian Beam