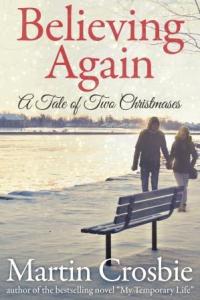 Believing Again: A Tale Of Two Christmases
by Martin Crosbie
Genre of this Book: Contemporary Romance
Word count: 37,000 words
Two weeks before Christmas, Becky gets what she always wanted. James proposes to her and promises that they'll have lots of Christmases together.
When Stephen returns home after serving overseas all he wants is to spend Christmas with his new wife, Myra. All he can think about is her touch, her warmth.
A compelling story of two couples, traveling their separate paths, building their lives together, until one day a secret is revealed that changes all of their lives.
And, afterward, nothing will ever be the same again.
Believing Again: A Tale of two Christmases is a heart-warming tale of love, commitment, family, and, of course, Christmas.
This book is available from Amazon.
Martin, how did you come up with the title for your book? Does it have any special meaning?
I wanted to do something specifically for Christmas and include that in the title. At the time I had no idea that readers enjoy Christmas stories all year round. That's been a nice surprise.
Who was your favorite character and why?
Billy. No question. He offered something that none of the other characters did. And, several readers asked what becomes of him. So…
"Believing Again Book Two: A Tale Of Two Valentines" is in the works, and it will tell the rest of Billy's story.
Does your book have any underlying theme, message, or moral?
Resilience. I think you reach a certain age and experience a certain amount of relationships, either friendships or intimate relationships, and you have to decide whether you're going to believe again. This book is about believing again in spite of all obstacles and disappointments.
What would/could a reader or reviewer say about this book that shows they "get" you as an author?
This review made me smile:
"This is a story that will piss you off, make you cry, and make you laugh. Mostly it shows that all things, good and bad, small and large, all happen for a reason."
That's what I'm trying to do.
Give us an excerpted quote from your favorite review of this book:
I have read every book written by this incredibly talented man. This is an uplifting story of heartbreak that you believe happens for a reason with a satisfying happy ending.
Where can people learn more about your writing?
www.martincrosbie.com