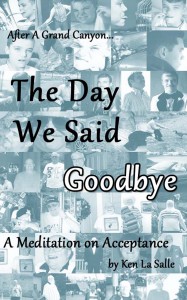 What do you do when your father is losing his life just as you are losing your mind? Run like hell.
At the close of A Grand Canyon, Ken La Salle and Vicky drove off into the sunset. Now, in The Day We Said Goodbye, Ken's father is dying and Ken has to find a way to say Goodbye.
The Day We Said Goodbye combines the story of how goodbyes are often all we're left with when everything we know fades away. It is a book for anyone who has lost someone, anyone losing themselves… and anyone who is lost.
The Day We Said Goodbye, the memoir by Ken La Salle, is available at Amazon.com and Amazon UK.
)
Don't forget, you can cast your vote for trailer of the month on March 29, 2014 at 5 p.m. Pacific time.