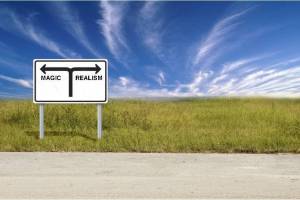 Magic Realism, or Magical Realism, has become a hotly discussed term among writers of both fiction and non-fiction. Indeed, some would argue that it has no place in fiction. Others disagree. It is also discussed in other art forms but I will stick to writing in this post.
I have been participating in a few groups where these discussions take place, mostly as a fly on the wall, listening and learning, occasionally offering a beginner's question or comment. My interest was piqued when two other writers suggested that my books could fall into that category. So with the qualifier that I still have a lot to learn I will attempt to pass on some of what I have discovered.
Firstly the term itself seems to be contradictory. How can 'magic' which most of us perceive as illusion, be reconciled with 'real'? The 'magic' that is referred to here is not the illusionist's tricks or sleight of hand. In this case the 'magic' is viewed, especially by non-fiction writers, as very 'real'. They argue that magic exists and that it can be experienced in a very real way. Societies and cultures abound whose belief systems and daily life are infused with magic's influences and effects on their daily lives. These can be found on every continent:  many African and South American cultures, the Caribbean, and among Amerindian peoples and the indigenous people of Australia and New Zealand. Even in more remote areas of Europe vestiges of these beliefs remain.
My understanding is that these peoples believe in and relate to 'spirits' in many forms, many animistic in nature; that their practitioners, such as shamans, medicine men and spiritual leaders interact in a very real way with entities the rest of us cannot see or feel. These interactions are an integral part of the daily lives of all members of that society and dictate how they view the world and their place in it. They can include spells, and even physical transformations into other forms, at least to those viewing them. In these societies even those who cannot interact directly with these entities still feel their effects. I recently read and enjoyed a memoir by Ian Mathie (Sorcerers and Orange Peel), a man who has travelled extensively in Africa and has encountered, first hand, some of these systems in action. He will tell you they are very real and that he has had many 'magical' experiences that have affected his view of reality. After reading one of his books, and having done a good bit of reading and research on North American aboriginal cultures, I find myself far less skeptical than my western empirical upbringing would lead me to be. I am left open to possibilities many would find untenable. Am I a believer? I don't know. Let's say that I am still looking for answers.
Which brings me to the question, "Does magic realism have a place in fiction and what would that look like? I believe it does and, from her writing, I think Lynne Cantwell would agree with me. But, when creating fiction, the line between fantasy and magic realism can become blurred. The writer is no longer disclosing what he/she sees as truth, but rather incorporating a semblance of that truth into an imagined story. The paranormal elements of the story can quickly cross the line from being so plausible as to have the reader accept them as 'real' for those characters and their world, to stretching credulity into the realm of fantasy. In fiction the world in which the 'magic' happens is made up. Yet it can be, and often is, based on solid research into actual societies and cultures. In these cases I think one can argue that the work has a legitimate claim to the label 'magic realism'.
So where does it cross the line into fantasy? Ah, there's the rub. Some say my trilogy Earth's Pendulum falls within the accepted parameters. Others disagree and tell me it must be called fantasy. I use a 'seer' as a character, a woman who can occasionally communicate with certain animals, who can tell if someone is telling the truth and who is in communication with the goddess. In many 'real' societies this is well within the realm of possible and would be accepted as real. In that sense it fits the understanding of 'magic realism'. On the other hand, the world I have created is not real. It loosely resembles a real one, but has never existed. As a result, the belief system that seems so convincing also never existed. In that sense it is, strictly speaking, fantasy. Arguments can be made for either interpretation. I don't even know if it matters. I only bring it up to illustrate various points of view on the subject and to, perhaps, bring some more folks into the discussion. You decide.
There are more things in heaven and earth, Horatio,

Than are dreamt of in your philosophy.

– Hamlet (1.5.167-8), Hamlet to Horatio