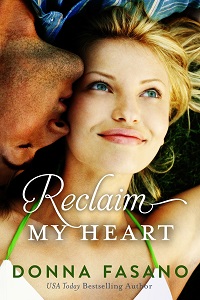 Reclaim My Heart
by Donna Fasano
Genre of this Book: Contemporary Romance
Word count: 65,000
Sixteen years ago, Tyne Whitlock cut all ties to her past and left town under the shameful shadow of a teenage pregnancy. Now her fifteen-year-old son is in trouble with the law, and she is desperate for help. But reaching out to high-powered attorney Lucas Silver Hawk will tear open the heart-wrenching past in ways Tyne never imagined.
Forced to return to the Delaware Indian community where Lucas was raised, Tyne and Lucas are tempted by the heated passion that consumed them as teens. Tyne rediscovers all the reasons she found this man irresistible, but there are scandalous secrets waiting to be revealed, disgraceful choices made in the past that cannot be denied. Love is a powerful force that could heal them both—if the truth doesn't rip them apart.
This book is available in print or Kindle format from Amazon. Also available as an MP3 CD, and an audio book on Audible.com
Donna, how did you come up with the title for your book? Does it have any special meaning?
The title came from the "reunited lovers" theme. I wanted to write a book about two people who had a shared past and now need each other in the present. The theme naturally brings a tremendous amount of angst that only adds to the tension of the story.
Who was your favorite character and why?
Like many of my readers have stated in the reviews, Uncle Jasper was my favorite because he was a very wise mentor to the characters in the book.
Does your book have any underlying theme, message, or moral?
The book has several messages, one of which is the moral issue of racism. Although some of us are born into and grow up in a home saturated with bigotry, that doesn't mean we can't embrace equality for all. We might love our family members, but we don't have to accept their intolerance of others.
What would/could a reader or reviewer say about this book that shows they "get" you as an author?
My main goal is to entertain my readers, to give them an enjoyable journey. I'm almost certain they'll recognize some of the traits I've given my characters either in themselves or in people they know, and I hope the book makes my readers think a little about certain moral issues.
Give us an excerpted quote from your favorite review of this book:
"…what an amazing job the author did on this book… left a huge impact on me, one that I'll never forget! I believe readers can benefit, learn, and grow from [the characters]." ~Amy Conley, The Nerd Girl Reviews
Where can people learn more about your writing?
http://donnafasano.blogspot.com/