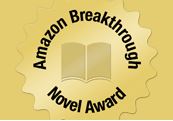 Back in the day, there was a TV show called Bewitched. The main character was a typical suburban housewife who happened to be a witch. The woman who lived across the street had a habit of spying on her neighbors, and when she saw something especially odd going on at the Stevenses' house, she'd screech her husband's name to get him to come to the window: "ABNER!!!"
I don't know why I thought of that when I was coming up with a title for this post. There's nothing magical about the ABNA – which is short for the Amazon Breakthrough Novel Award. Every year, usually in January, Amazon opens its virtual doors to 10,000 non-traditionally-published books in five genre categories: General Fiction, Mystery/Thriller, Science Fiction/Fantasy/Horror, Romance, and YA Fiction.
An entry consists of a 300-word pitch (or blurb), a 3,000- to 5,000-word excerpt from your book, and the full manuscript, which must be between 50,000 and 125,000 words. You must strike anything and everything from your entry that identifies the author: your name, any awards the book has won, etc. If you don't, your entry will be disqualified.
In the first round, Amazon fiction editors evaluate the pitches for all 10,000 entries, and select the top 400 books in each category. Then Amazon Vine reviewers are asked to evaluate the survivors and pick the top 100 books in each category to send on to the quarterfinals. All second-round books get two Amazon Vine reviews.
Now things get serious. Each quarterfinalist book gets a review from somebody at Publishers Weekly. The top 5 in each category – 25 books out of the initial 10,000 – become semifinalists. Amazon Publishing judges then whittle down this group to five finalists – one in each category. These five authors are guaranteed a $15,000 contract offer from Amazon Publishing.
Then the voting is turned over to readers to decide which of the five finalists is the best book. That lucky author wins the grand prize: a $50,000 contract with Amazon Publishing.
If you've been on the fence about entering the ABNA, I can tell you that the experience isn't that bad. I've entered the ABNA twice now. (Last year, Seized was a quarterfinalist; this year, Crosswind didn't make it to the second round.) Entering is free, and the submission process isn't too much different from uploading a book to KDP. Make sure your pitch is really strong – and for goodness' sake, run it by your editor to make sure it's error-free.
There are a couple of things for you to keep in mind, though. The quarterfinalist prize – the PW review – isn't published by PW unless you make semifinalist; otherwise, it sits locked away inside your CreateSpace account. So if you tell someone you have a PW review for your book, they have no way to independently verify it. This is also true of the Amazon Vine reviews for the second-round winners; they stay inside your CreateSpace account.
Also, Amazon crows about the top prize being $50,000 – but as I said earlier, they don't just cut you a check for $50,000. The prize is actually a $50,000 advance on their publication of your book. Same goes for the prizes for the finalists – they're advances, not free money. In fact, the rights for every quarterfinalist are tied up by Amazon Publishing until the book is eliminated from the contest. If you're an indie, you don't have to pull your book down from KDP (or anywhere else), but you can't shop it to another publisher while you're still in the running for the ABNA. And if you do win one of the top prizes, you either have to sign the contract with no changes, or reject it – you can't negotiate the terms.
I've heard Amazon Publishing is a decent outfit for authors to deal with. So I'll probably enter the ABNA again next year – and if I win the top prize, I won't turn down the contract. But if you're thinking about it, you need to know what you're getting into.