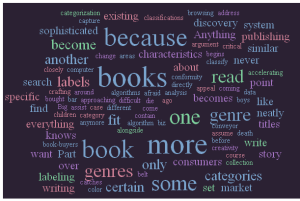 In NewsBites on Wednesday, one of the stories was about a petition to address gender labeling in books for children. The argument is that publishers should not assume that boys want one type of book and girls, another.
But of course, identifying the target market is a long-standing tradition in the publishing biz. The idea is to facilitate sales by helping consumers narrow the field to books which appeal to their particular areas of interest. As data collection and analysis have become more sophisticated, the numbers of genres and sub-genres have multiplied.
Ironically, as more of these helpful labels have come into existence, it has become more difficult to classify some works. Many books do not fit neatly into an existing category. Some books might fit as well in one as another. At some point, the system becomes too elaborate. When that occurs, it is more of a hindrance than a help. It begins to impede discovery because consumers do not find the book they are looking for within the genre they were searching.
The issue is accelerating because, not only are the number of classifications and categories increasing, but search engine algorithms also use that kind of information to assist browsing book-buyers. "Also bought" or "similar to" are directly the result of this technology.
Yet, there is another, perhaps more insidious effect of labeling. Because each genre has certain characteristics, a story has to contain those characteristics to wear the mantle. This means that on some level, the labels also influence and shape the writing. Part of this is because readers of certain genres have certain expectations that must be fulfilled. The other part is that writers write what they write because they have read what they have read. Our minds are shaped to the story paradigm of the specific genres we read.
Anything new and different that catches on becomes a genre unto itself, spawning imitators and crafting its own set of rules. Paranormal romance is a case in point. It didn't even exist until a few years ago.
But mostly, anything that doesn't fit pretty neatly into an existing genre is doomed to die a death of obscurity. It just falls off the conveyor belt. No one knows what to do with it. No one knows how to market it. Maybe people would like your book if they'd only read it, but they won't, because they will never find it. It is libris non grata.
In this industry, conformity is rewarded and uniqueness is punished. That's why the Big 5 put out the same sameness over and over. The books produced by traditional publishing houses set the bar. If we want our books to be found alongside those titles, our books must  be something like those titles; at least similar enough for a computer algorithm to think so.
The book categorization system is approaching critical mass. It is fracturing and faltering before our very eyes, splintering into smaller, more specific genres that still manage not to capture everything. Labels never can.
The good news is that this is only the short-term picture. As search engines become more sophisticated, they won't rely on categories anymore. They will know from scanning the whole text of your book how closely it matches the query. Oh, categories may stick around in some form, but they will not dominate the scene the way they do now.
That is going to change everything about book discovery and will throw the doors open to creativity in writing. So, don't be afraid to color outside the lines, my little indies. Our time is coming.