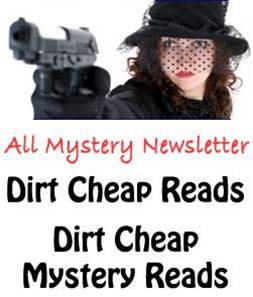 If you write mysteries, you're kind of in luck. Because that's a very high sales value genre. One very concrete measure of that is the pricing on BookBub—the highest priced advertising on their newsletter at $1500 for a book over $2.00. But there's a way to get your book promo mailed to readers in that niche without the expense: the All Mystery! newsletter.
Rebecca Dahlke's lively tipsheet/site for mystery novels has had an interesting history, particularly in light of that discussion of pricing. She explains the service's bounce from free to fee back to free like this, "I started All Mystery e-newsletter in 2010. It went out once a month and it was free to all authors. Then social media fired up and more was needed, including the time I spent to produce, so a fee was charged. However, I've recently been able to revamp All Mystery, adding some much needed muscle to the social media aspect–and now I'm happy to be able to offer promotion again for Nada, zip, zero, nada."
So, yeah, you can just go to the site and sign up to promote your title on a newsletter that goes out twice weekly to over 3000 subscribers, in addition to pops on Google+, Pinterest, Facebook, and Twitter. (You can list on the FaceBook groups at any time.)
Obviously there's a big difference between 900,000 and 3000 subscribers. But there's an even bigger difference between $1500 and free. If you're in the general mystery area, it would be smart to sign up with All Mystery! especially on days when you're doing a promotion of some kind. Then turn it around and blast the link to your listing there wherever you can. I call this sort of thing, "license to spam" because forums that might not like a "BUY MY BOOK" or even "FREE TODAY!" are less likely to look askance at "Hey, I got my book listed on All Mystery! with some other cool books you might like."
As with any promotional tool, the way you use it is as important as having it. I've pointed out to many that using free days or KDP Countdown is useless without blasting those promotional days, and this is exactly the sort of site that can augment the impact of promotions. And it works the other way, too, a listing on a site like this can be linked around to multiply its effectiveness.
So how effective is it? Your mileage will vary, of course, but I saw some comments from other writers. Scott Jenkins, author of "Bullet Catch", was listed January 28 and found that, "I reached #31 on the Bestselling Thrillers list and #62 on Action & Adventure! And this was after starting at somewhere under 500,000."
Nancy Glass, who writes the Aggie Mundeen Mysteries was on the list a year ago and reports, "My sales shot up. How often can I do that?"
I was listed in mid-February for my Mazatlán murder romance, "Sweet Spot", and definitely got some sales. It's hard to evaluate the power of All Mystery! since I used other promo tools, including mailings, but the timing indicates it was very instrumental in moving about 40 books, increasing my rating to #51 in "Crime". An interesting thing about that Countdown promotion, by the way, is that it generated a half-dozen sales at full price after the deal had lapsed. These aren't big wow numbers, but I would definitely list on All Mystery! for any crime book I publish, and anticipate doing much better with a new title that most of my readers don't already own.