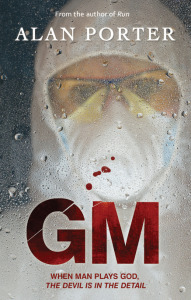 In 1996 Rachel Whitelock escaped the war in Zaire with a secret that could change the lives of millions. Now she is going back to Africa to oversee covert trials of the genetically modified crop that came from that discovery.
But someone is waiting for her.
Ex-warlord Ato Jelani has waited eighteen years for her to return what she took, but he doesn't want it to feed the people. With the power this crop has, he can restart the war.
Hunted across the jungles of Bengara, Whitelock must pull off a daring plan that could make or break her career… and change the course of a nation.
GM, the thriller by Alan Porter, is available at Amazon.com and Amazon UK.

Don't forget, you can cast your vote for trailer of the month on March 29, 2014 at 5 p.m. Pacific time.