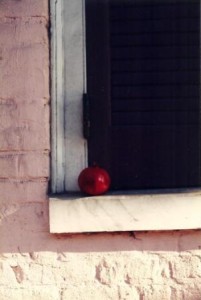 I saw the pomegranate on the windowsill, but the shutters were closed. The contact was not there. Something had gone wrong.
It happens more often that you'd think, and way more often than I like. A missed connection doesn't necessarily mean the mission has been blown, but it is never a good sign.
The only thing to do in situations like this is to stay calm and remain vigilant. I took the pomegranate and proceeded down the alleyway to the secondary rendezvous point. That's when I noticed I was being followed…
In 250 words or less, tell us a story incorporating the elements in the picture. The 250 word limit will be strictly enforced.
Please keep language and subject matter to a PG-13 level.
Use the comment section below to submit your entry. Entries will be accepted until Tuesday at 5:00 PM Pacific Time.
On Wednesday afternoon, we will open voting to the public with an online poll for the best writing entry accompanying the photo. Voting will be open until 5:00 PM Thursday.
On Friday afternoon, the winner will be recognized as we post the winning entry along with the picture as a feature. Then, at year end, the winners will be featured in an anthology like this one. Best of luck to you all in your writing!
Entries only in the comment section. Other comments will be deleted. See HERE for additional information and terms.