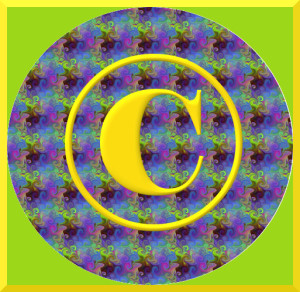 Indie publishing is full of learning experiences. One of them involves what to put on the copyright page of your book. (The copyright page, to be clear, is the page on the flip side, or verso, of the title page at the very beginning of your book.)
People put all sorts of junk on this page, but really, there is only one thing that's pretty much required to be there: your copyright notice.
I'm going to digress for a moment and talk about copyright, because I've seen some bad info floating around the interwebs. As the creator of the work in question, you hold the copyright. Period. You can fill out a form and pay $35 to register your copyright with the U.S. gummint, or you can do any of the other things I've seen mentioned (e-mailing a copy of the work to yourself, mailing yourself a hard copy, etc.), but none of them are required. They will not grant you the copyright to your own work. You already own it.
There are certain specific situations in which you would not own the copyright to work you produce – if you're writing for a newspaper, say, or ghostwriting someone else's memoirs. But if you've written a novel out of your own head, you automatically own the copyright on that novel, and you don't have to do anything special to claim it. Got it? Okay. Let's move on.
Joel Friedlander over at the Book Designer has written a great article on the copyright page and what it traditionally includes. In it, he says there's only one thing that absolutely, positively needs to be on that page: a line containing the word "copyright" or the symbol ©, the year of publication, and the name of the copyright holder. For my next book, mine will read:
Copyright 2014 by Lynne Cantwell
That's it. That's all you need.
Joel goes on to mention a bunch of other legalese that publishers usually put on that page: their physical address, the edition number (if the book has more than one), the book's ISBN, Library of Congress cataloging information, that "this is a work of fiction and it's a coincidence if any of the characters remind you of the author's ex-husband" thing, any crunchy-granola "printed on recycled paper" notices (which doesn't apply to an ebook, of course), and so on.
I also use that page to give credit for the images I used in making the cover, which Joel says is a nice thing to do. You might also credit your editor on this page, but I save that for the author's note at the back of the book.
The Smashwords Style Guide has a paragraph of DRM-related language that you can copy and paste into your eBook's copyright page. Basically, it asks readers not to rip off the author by passing out free copies to all and sundry. I always include it in my eBooks, but of course I take it out when I do the paperback version.
The Smashwords Style Guide also suggests you list your "other books by" info on this page, complete with hyperlinks to those books at Smashwords. You can do the same for the Kindle version (swapping out the Smashwords links for your Amazon links!). Or you can put this info in the back of your book with your bio. Or, hey, both. It's up to you.
One more thing: if you ever have any intention of submitting your books to a library, I direct you to this terrific post written by Laura Carruba, a librarian who happens to be a friend of my daughter Kat. Laura says that if your copyright page includes the publisher's name and location, copyright date, and ISBN – and if you pay attention to her other tips about formatting your hard-copy books – the cataloging department at your local library will love you forever.