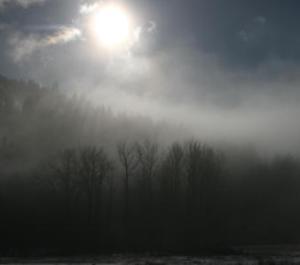 The scene would have been eerie enough if it had only been a heavy fog. It wasn't fog, of course. It was nerve gas – the kind of stuff we swore we didn't have anymore.
Jenkins and I hunkered down, sweating away in our safesuits, weapons at the ready. The dead quiet was unnerving.
"You think that got 'em, Paul? That had to get 'em. Nothing could live through that."
I closed my eyes as I heard the distant snap of a twig among the trees. I tightened my grip on the flamethrower. They were still coming…
In 250 words or less, tell us a story incorporating the elements in the picture. The 250 word limit will be strictly enforced.
Please keep language and subject matter to a PG-13 level.
Use the comment section below to submit your entry. Entries will be accepted until Tuesday at 5:00 PM Pacific Time.
On Wednesday afternoon, we will open voting to the public with an online poll for the best writing entry accompanying the photo. Voting will be open until 5:00 PM Thursday.
On Friday afternoon, the winner will be recognized as we post the winning entry along with the picture as a feature. Then, at year end, the winners will be featured in an anthology like this one. Best of luck to you all in your writing!
Entries only in the comment section. Other comments will be deleted. See HERE for additional information and terms.