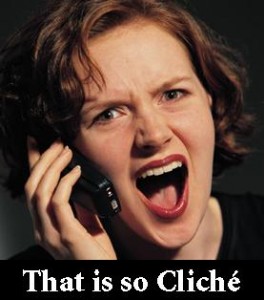 Like every subject to do with writing, this is a theme that comes up 'time and time again'; there that didn't take long did it?
The origin of the word cliché is, not surprisingly, French. The French first used the word to describe the sound that a matrix, or a mould with letters on it, made when being dropped into molten metal to make a printing plate. Well, the meaning has certainly come a long way since then.
There are various interpretive descriptions of 'the cliché', depending on which dictionary or thesaurus you consult, but this one describes it well enough for most readers to grasp its meaning: an original saying, phrase, work of art or part thereof that, through continual use, becomes trite and unimaginative; or this, the cliché can be an expression imposed by conventionalised linguistic usage.
Like most people, I grew up using clichéd terms that I thought were 'cool' at the time; even the word 'cool' is a cliché ‒ originating from Miles Davis (Jazz musician/composer) in 1956 with 'Birth of the Cool' ‒ meaning an indefinable quality that makes something or someone extraordinary; however, through over use it became hackneyed before most of you were born. A couple of clichéd terms in current use by teenagers today and that particularly annoy me are, 'Oh my God!' or 'That is sooo gay!' (what does that even mean?)
If you think about some of the clichés still in use in writing or everyday speech today, although they came about through logical processes, they can be totally obscure; and yet we know instinctively what they mean:
• 'In the clink': in a jail or prison. This goes back to the 12th century when there was a prison on Clink Street in the city of London, England.
• Minding your "Ps" and "Qs": to be on your best behaviour. The English beer tankard was purchased over the bar in a pint or a quart size and if a customer became unruly, the bartender would say, 'mind your Ps & Qs'.
• Copper or Cop: referring to a policeman. During the 19th century, the word 'cop' meant to grasp or catch; when a policeman caught a criminal the term 'copper' was used (in the early English crime films they even had the criminal getting caught saying, 'It's fair cop').
• And here's a real little charmer… oops cliché again…To have a frog in your throat: a sore throat. In the 12th and 13th centuries, doctors used actual frogs to treat a patient who suffered from a severe cough. With the frog actually placed inside the patient's mouth it was thought that the secretions of the frog coated the throat and helped to heal it. Burp, delightful.
Clichés are often idioms. Idioms are figurative phrases with an implied meaning and although it is tempting at times to use a well-known phrase (a cliché) that can paint a general picture in a few words: 'The pot calling the kettle black,' or 'Stop and smell the roses'; the use of clichés in writing, speech, or argument is generally considered a mark of inexperience, lack of originality or just plain laziness.
I do sometimes slip one in, but clichés are one of my editor's pet hates and she very rarely lets me get away with it: I'll find a line through the phrase and a note saying, 'You can do better than this!' There are places that I have insisted they stay in: chapter titles, I feel, are excellent places to use clichés, and in one book in particular I deliberately used a cliché for every single chapter heading.
Except under certain circumstances, I have to agree with my editor; I find that if I come across a well-worn cliché in something I'm reading it 'sends a shiver down my spine' and if there are more than a few it can soon 'take me to the brink', totally ruining the book for me and ensuring that 'I never darken that author's door again', 'so to speak', 'if you know what I mean?' 'Nudge, nudge, wink, wink,' and you know what they say about 'a nudge being as good as a wink to a blind horse.' So basically, 'you can bet your bottom dollar' that clichés are something 'I try to steer clear of', 'and you can take that to the bank'.