Last month, I wrote about the success I had offering five of my eBooks free simultaneously for four days over the New Year's Day holiday period. I ran the same promotion on Washington's Birthday and had success again. However, that was only a single free day.
I define success as having sales bump following the free period. There is much discussion about whether authors should make their books free, so I want to share my methods with you here, and maybe it will work for you as well.
What prompted this article is that several people were interested in how much promotion I did for my free offering. Actually, it only took me about an hour to do the announcement. I used Craig's List to advertise the free offering, using their "Event" category.
Why did I select Craig's List (CL)?
There are many tools on the Internet; some are more familiar and popular than others. When it comes to free book announcements, there are many good sites that can deliver the message to their membership or following. I have used them, but I spend considerable time filling out each site's forms. It takes considerable effort, and there is still a chance that site might not post the free book(s). I feel CL has an extensive presence used currently by millions of people, why not try it?
CL also allowed me to format my announcement easily and consistently. This included the information about the freebie, a brief introduction to my series, along with each book's short description including the book covers. I could also provide a link to my author page to provide anyone interested with the ability to download each book from Amazon.
It might be a combination of factors that enabled all of my five books to make Amazon's "Top 100 Free" list. I'm sure once my books made it to that list, potential readers saw them listed, propelling four of them to the top 20.
In my next planned promotion over the Memorial Day holiday weekend, I plan to offer these same five books for four days (Friday through Monday). I "posted" an "event" in twenty US cities on CL. Using a combination of "cut and paste," I was able to complete that task in under an hour. I will say that I believe the limit is twenty postings, but you are on your own, and I recommend following their guidelines, and can take no responsibility.
Here are some steps before you try to enter an Event on Craig's List –
You should establish each book's Free period on your publication site (Amazon KDP Select for example). You might not be able to run your planned books for the planned period.
Next, set up all of your book covers in one folder, so you can copy each cover easily. I suggest they be JPEG format to enable a fast upload to CL.
Then set up a Word document with the following information (your info, not mine)

Announcement – 5 Free eBooks (this is what people see on CL when searching)
Detail – If you have a series, a short 50 word or less introduction. Followed by each free book's title, including a 20-word or less description.
Note where can they buy the books (Amazon for instance)
Link – Provide a link to your Amazon Author Page, or to where they can download the free copies.
Here are the steps that need to be done to do an Event posting on Craig's List. If you do multiple cities and follow my suggestions, steps 3-16 should take you under two minutes to complete for each city. This efficient entry is one of the benefits of using a site like Craig's List!
Now to set up an Event on Craig's List –
1. Establish an account if you don't already have one.
2. Log onto CL (MY ACCOUNT)
3. From the main screen, click on US CITIES (right bottom) – and select one
4. On the top left you will see "for sale" click on the down arrow next to it
5. Select "events" from the list
6. Then click on "post to classifieds"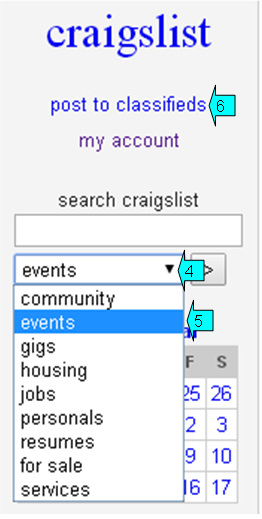 7. Then click on the "event" radio button on the "what type of posting is this" screen
8. Then click on the "events" radio button on the "please choose a category" screen
Note: You might be asked to identify a particular area within a large city – pick one
Note: The next screen should be the event detail screen (shown is that screen after I filled it in, or copy and pasted my information)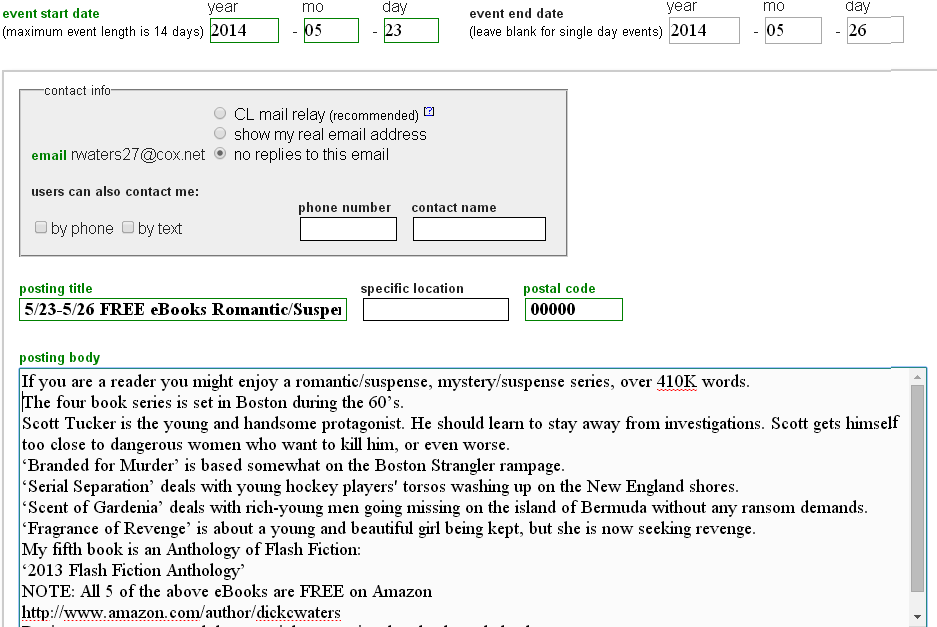 9. Type in the start date (it automatically jumps to the next field)
10. Type in the end date
11. Next in the "Contact Info" box, click the radio button "no replies to this email" and leave all the other fields blank
12. Type your announcement into the "posting title" box (CL bolds it)
Note: CL will add the start and end dates of the event into this field (Don't enter it)
Hint: Once you type your first posting title, just enter the first character the next time, and select from the list that appears (saves time), same with "postal code"
13. I suggest you enter 00000 in "postal code" (it is a mystery, don't you love one?)
14. Copy from your Word document all the details (i.e., series, books, where to buy, link) and paste it in the "posting body" box, and hit CONTINUE (drag down right slide bar)
15. On the next screen it allows you to enter images – click on "choose files" and click on each of your free book cover images. When done, click CONTINUE
16. Verify the detail for your event, and if no changes are required, click PUBLISH
17. Then hit the underlined city to get to post another city – (See #3 above)
Note: CL will send an email to confirm your posting.
As a relatively new author my objective is to find a way to let readers know that my material is out in reader land. My hope is that they discover my books, and if they like them, maybe they will mention them to their friends. I believe word of mouth is the best form of advertising.
As a further note about Craig's List; they are worldwide, which obviously enables you to select cities from around the world. I have found some actual sales success using this combination of simultaneous free eBooks; over a four or five day holiday period, along with using Craig's List to announce the free offering. You might want to try this approach, or combine it with your current method of advertising your free promotion. Should you try this, I would be interested in hearing about your experience.