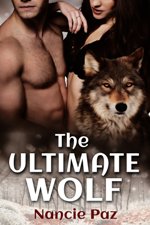 The Ultimate Wolf
by Nancie Paz
Genres: Paranormal romance, action, adventure
Available from Amazon.
Kevin can transform into a wolf at will. The government knows about Kevin's special abilities and is closing in on him. When it seemed all was lost, Amanda came to his aid. Can these two trauma-ridden people overcome their personal demons and discover what it's like to love again?
Excerpt:
His clothes fell on the floor. Long bushy tail; underbelly; four legs; thick coat of fur; large ears; canines; muzzle. From one moment to the next he had transformed into a great gray wolf. His appearance was sublime.

But she had no time to stick around, dazed by this supernatural phenomenon. A M84 stun grenade flew into the building.

Had Amanda hesitated for a single second or taken the time to process what was happening, they would have been knocked out cold. But she believed in Kevin, mounted him and grabbed on for dear life, handbag still in hand.

With a quickness that was both dazzling and ferocious, he jumped ten feet into one crate, and then into another before he smashed through a small window and fled into the darkness of Austin. Amanda looked at the people around her—the shock on their faces was apparent.
What others are saying:
"This book was absolutely fantastic. The dialogue was snappy and colorful, the action swift, the characters memorable. The author brings a fresh take to the werewolf genre with an utterly fascinating and novel origin myth. I'm really looking forward to seeing sequels and hopefully even a movie! A+ would read again." – Vincent G Guidry