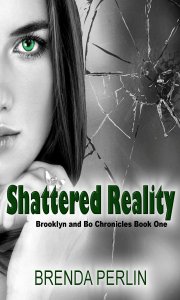 Shattered Reality
by Brenda Perlin
Genres: Contemporary fiction
Available from Amazon
In "Shattered Reality" we learn what shaped Brooklyn, the trials of an unhappy marriage and a deep abiding love that would not be denied. We meet a troubled, spiteful wife, who does not want to become an "ex".
Will Brooklyn and Bo survive, or will all be lost to a bitter woman?
Excerpt:
"You know what, Brook? You need to do something. Anything. I don't give a shit what it is, but you need to do something. I can't work all day and come home to these stupid problems every day. Brook, do something. Just do something!"


We made our way home in silence and when we got home, I went straight to bed without even washing off my makeup even though mascara covered my entire face.


The following day Gerard woke me up with kisses. That is how we worked things out. He would explode and then later feel bad and try to make up. For me nothing had been resolved, and all I could feel was cold. I shut down completely and by then Gerard was just too busy to notice. He was exhausted, but I didn't feel I deserved to be talked to like that. I really tried to get it to work out well, but it didn't.
What others are saying:
"From the moment I started reading this book I knew I was going to like it. Little did I know by the end of the book I would fall in love with it." – NarlyNut's Book Lovers