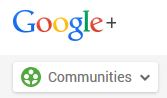 Like many folks, I spend a lot of time on Facebook (probably more than is good for me, actually). And like many authors and other small business owners, I've become frustrated with Facebook's pay-to-inform-your-followers setup and have thought about moving house to another social network – say, Google Plus.
But I also spend a lot of time in Facebook groups. (Sometimes it seems like posting in a Facebook group is the only way to be sure people will see your post, doesn't it? But I digress.) Wouldn't it be neat if Google Plus had a similar feature?
It does! It's called Google Communities. If you go to your Google Plus home page and click on the Home button at the top left, you'll get a drop-down menu that includes a link to Communities. Click that and it will take you to a page that lists all the communities you're already in. G+ also helpfully suggests even more communities for you to join. You can click through and take a look at any community that strikes your fancy before you join.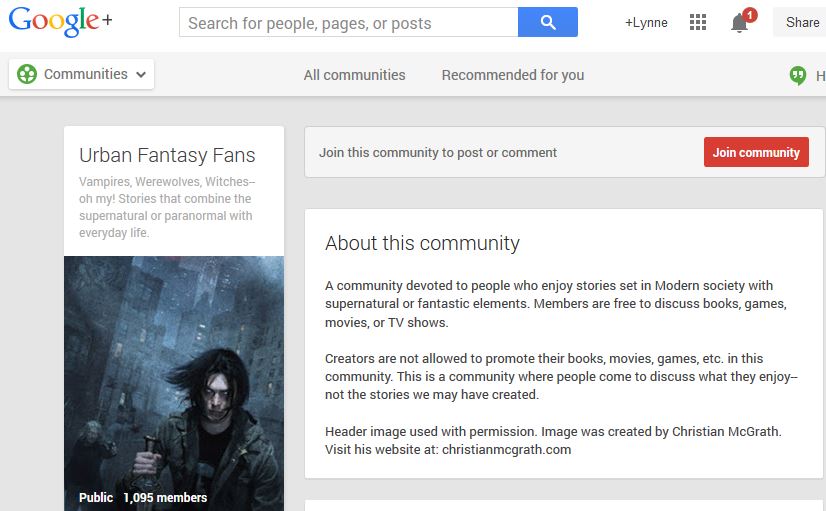 Ready to commit? Click the red "Join community" button on the top right. (Just like at Facebook, you may have to be vetted by a moderator before you're allowed in.) Once you're in, posts from that community will show up on your home page. And you can always get to the community by clicking the link on your Communities page.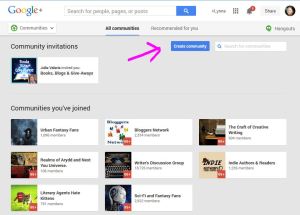 Let's say you'd like to set up your own community. At the top of your Communities page, you'll see a cheerful blue button that says, "Create community."  I think I'll start one for Indies Unlimited. And since the seriously cool name "Literary Agents Hate Kittens" is already taken, I'll just call mine "Indies Unlimited."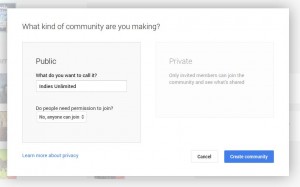 I'm going to click in the Public box and type in the name of my new community. The drop-down about permissions has two options: "anyone can join" and "anyone can ask to join." I'm going to let all and sundry into my group, because I think you all are swell. (You can't take a public G+ group private later – but you can change the moderation setting.) Click "Create community" and away we go.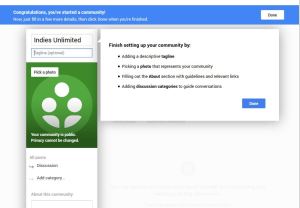 On the next screen, you can add a photo, tagline, and some information about your group. I'm going to steal the banner from the IU website and use that as my photo. When you're finished, click Done.
Next, you get a pop-up that allows you to invite other G+ users to your group. You don't need to preface names of your friends with a plus sign – just start typing the name and G+ will give you a list of possibilities, with the people already in your circles at the top. Add a message at the top, if you like, and send it off.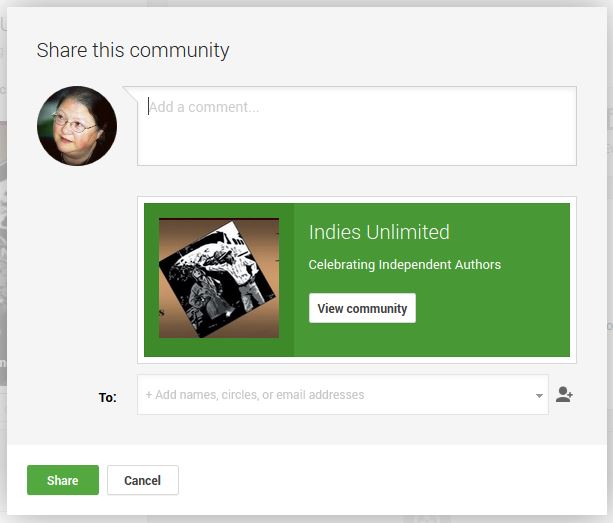 That's all there is to it. Here's our new IU group at Google Plus. Feel free to stop by!