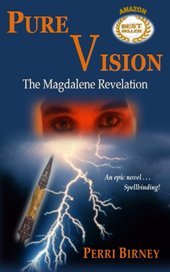 Pure Vision: The Magdalene Revelation
by Perri Birney
Genre: Action & Adventure, Visionary & Metaphysical
Word count: 171,000 words
"A spellbinding, international cloak-and-dagger thriller . . . Visionary!"
New York Times investigative reporter Maggie Seline disappears suddenly after uncovering a radical energy scheme that threatens the oil industry. A clandestine underground society based in Rome, Propaganda Due, is at the heart of the sinister plot which leads to an unlikely door — the president of the European Commission.
Forced into hiding, Seline secretly teams up with history scholar and writer, Michael Sonada, and the two track clues which ultimately lead to a powerful ancient blueprint, one tied to a global energy conspiracy. Their discovery catapults them on a dangerous, heart-pounding adventure to unravel the mysterious code, all the while dodging P2's malicious assaults. As Seline and Sonada race to thwart the ominous plan, their journey drives them into the forbidden regions of Nepal to make an earth-shattering discovery.
Pure Vision forges ancient myths and contemporary challenges in this provocative and thrilling epic adventure. At every turn, Perri Birney's intriguing scenario encourages a closer look at the spiritual forces that infuse the world's political battles.
This book is available from Amazon and Barnes & Noble.
Perri, how did you come up with the title for your book? Does it have any special meaning? 
Everything boils down to perception. The novel portrays what happens when people have clouded views about each other and the difficulties that ensue because of it. The main character is a conduit for change and realizes that "pure vision" is needed to create it.
Who was your favorite character and why?
I would say Maggie Seline is my favorite because she's up for the challenge — pretty bold and outspoken yet at the same time vulnerable. She's aware that fitting in isn't an option.
Does your book have any underlying theme, message, or moral?
One main theme is that unless you are willing to let go of old grievances, you'll continue to sour your life and everyone else's. Pure Vision really emphasizes how thoughts and feelings create our world, and there's no limit to what anyone can achieve.
What would/could a reader or reviewer say about this book that shows they "get" you as an author?
I would be happy if readers said they were entertained and exposed to new ideas at the same time — that they were inspired to have an empowered view of reality. If a reviewer would say I used fiction to create change, then that would be hitting the nail on the head.
Give us an excerpted quote from your favorite review of this book:
"Presents a fascinating story full of intrigue and history. . . Birney's fiction seamlessly blends science and religion into a tale worthy of Indiana Jones." – Daily Freeman
Where can people learn more about your writing? 
http://perribirney.wordpress.com/