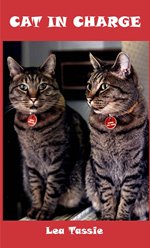 Cat In Charge
Lea Tassie
Genres: humor, literature, fiction
Available from Amazon.
Holly and Ben make a deal. He can try market gardening for one year and she can adopt a tabby-Siamese cat. George the Magnificent causes Ben to become an animal activist. But will renovations, invading cattle and a dry well make Holly end up depriving Ben of the land he loves?