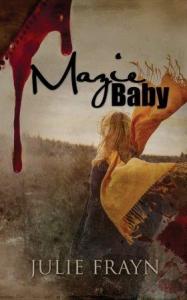 Mazie Baby
by Julie Frayn
Genre: Literary Fiction/Women's Fiction
Word count: 76,000
Mazie Reynolds has moxie from the top of her bruised face to the tip of her broken wrist. She married a man she adored, and who adored her in return. But over fourteen years, her happy marriage soured with each new beating.
When his attentions shift to their twelve-year-old daughter, Mazie knows it's time to get the hell out. She hatches a plan to escape. But can she outwit the man she vowed to obey until death do they part?
This book is available at Amazon, Smashwords, and Barnes & Noble.

Julie, how did you come up with the title for your book? Does it have any special meaning?
My editor, Scott Morgan of write-hook.com, suggested Mazie Baby. It was perfect. Mazie's husband calls her that. In the story she notes how it changed from an endearment to a taunt, from a loving pet name to something he spat out when he demanded she forgive him.
Who was your favorite character and why?
Mazie is my favourite. I understand her, empathize and sympathize with her situation. As the story unfolded, I felt her physical pain and her desperate need to protect her child. She is a strong woman and I kept rooting for her. Rachel is a close second. That woman is hilarious.
Does your book have any underlying theme, message, or moral?
I never write with an intentional moral, but the story addresses domestic violence issues in an honest and often brutal way. A woman I know was killed by her abusive husband before he took his own life. I don't condone some of the choices Mazie made, but I understand them.
What would/could a reader or reviewer say about this book that shows they "get" you as an author?
Everyone knows a Mazie. This story is packed with realism and honesty about a very difficult topic. The reader feels every punch, every broken rib, is immersed in the darker side of domestic life. And root the characters on in their quest to be 'normal.'
Give us an excerpted quote from your favorite review of this book:
"Her characters are raw and too real to ignore. They'll stay with you for some time to come."
Where can people learn more about your writing?
www.juliefrayn.com