This post is for all you writers out there who have the dream of becoming a self-published author.
As a recent self-publisher, I wanted to share a few things – bad and good – about my experience. I don't want you to make the same mistakes I did during my journey. I want you to easily attain your dream.
The Bad
At the end of June, I finally self-published my very first book of short stories. Because it's fairly short in length, it's only available as a digital edition.
This leads me to my first regret: I cannot – yet – hold a giveaway on Goodreads.
Why? To hold a giveaway on Goodreads, the author must provide the winner with a physical copy of a book. Ebooks are not yet allowed in the Goodreads giveaway program.
Now I have to create a print edition with CreateSpace so that I can hold a giveaway. Right now, I'm working on doing this. Fortunately, my ebook contains 8227 words, and so surpasses the minimum requirement of 24 pages CreateSpace has mandated for print books.
My second regret involves the cover.
When I first decided to self-publish, I was given an opportunity to have a cover created for me, free of charge. Because my manuscript wasn't ready for publication at that point – and because I was unsure of what name I was going to use (I was considering a pseudonym) – I lost my chance when I was finally ready. By that point, the designer had changed her mind. Here is the cover I could have used: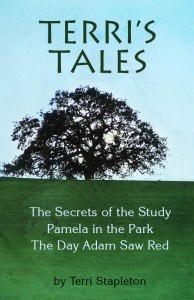 When I found out that the offer was no longer available, I tried to create my own cover. Because I'm not a graphics artist (I'm a writer!), this is what I ended up with: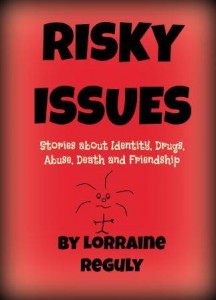 I then had another offer of a cover, but it looked similar to the one I created myself, so I finally decided to hire someone to create a cover for me. Unfortunately, the price I was quoted didn't include an image! However, the designer was able to incorporate my stick-guy into the design at no extra charge.
After asking my blog readers for their opinion on which cover was the most eye-catching, this is the cover I ended up using: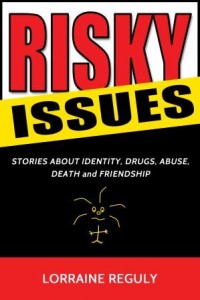 I'm still not entirely happy with the cover, though.
The Good
My self-publishing experience wasn't entirely horrible. I DID do a few things correctly.
I found four excellent beta readers whom I trusted would give me critical feedback on my stories without sugar-coating anything, which they did. Without them, my stories would not be as good as they are. Seriously. Their suggestions and comments were not made in vain. They truly helped me improve the stories!
I had help formatting my ebook from a professional. I attempted to do it myself, but I ran into a few technical problems. Ultimately, I turned to Rich Meyer, who helped me format the book to perfection!
I had help editing Risky Issues – and I'm an editor and an English teacher! When I thought my manuscript was perfect, I printed it out and gave it to my parents to read (for the first time!) and I'm sure glad I did, because there were three minor boo-boos to fix. This just goes to show you that you should always, always, ALWAYS get a second or third pair of eyes on your work, no matter how perfect you think it might be! Chances are, because it's YOUR writing, YOU won't be able to see your own errors, whether they're developmental or grammatical. I didn't really believe this, but, sadly, it's true. It's one of the pitfalls of being a writer.
Finally, I mentioned that I was working on my book (even when I wasn't!) on social media and in some of my blog posts, to keep reminding others that a book was, indeed, forthcoming. Plus, I asked a few people if they'd write an honest review of Risky Issues in exchange for a free copy. I'm pleased to announce that Risky Issues has already received some great reviews. Hopefully the "hype" I created, coupled with the reviews, will lead to some sales!
Now, even though I still have to add my book to Smashwords, market it, and do a few other things, I hope that you have learned something from my experiences as a first-time self-publisher and that you are better-equipped when you finally make the decision to self-publish YOUR book!
---
Lorraine Reguly is an English teacher-turned-freelance writer and editor, You can learn more about her from her author website or her Amazon author page.