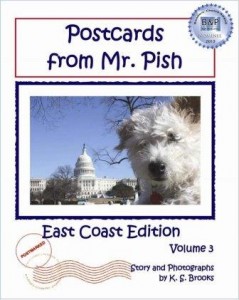 Postcards from Mr. Pish (East Coast Edition)
by K.S. Brooks
KidLit, Children's books, educational
Available from Amazon.
The lovable Jack Russell Terrier leads readers on an expedition down the East Coast of the United States in Postcards from Mr. Pish Volume 3. With each new discovery, the traveling terrier sends a postcard with full-color photographs and engaging text geared to promote outdoor learning and literacy. A 2013 BigAl's Books & Pals Readers Choice Award Nominee.
"For any kid with an adventurous spirit, a love of animals, and a sense of humor, this book is certain to delight." – Scott M.