I know this sounds boring but categories are excellent little chaps. They can help people find their way around your blog and spend longer reading what interests them. Alexa and Google will approve of this.
People tend to get categories and tags mixed up, and to confuse things further, Kat posted recently about the difference between tags and keywords. She added a screenprint to show how tags appeared at the bottom of an IU post, so readers could find similar articles. Here it is again:

Kat highlighted the tags and keywords. Today I'm going back to the beginning of the same sentence, 'This entry was posted in…' because that's your category. It's part of the filing system for your posts but this filing cabinet is sort of bigger.
Here's a screenprint of part of IU`s sidebar: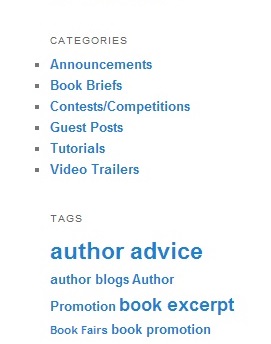 You`ll see that the ideas are broad; tutorials, guest posts etc, rather than the detailed topics that tags link together.
I've been working with fellow minion Yvonne Hertzberger on her website and we decided to create categories for her blog posts. She is a demon sharer and pimper of other people's work and frequently reposts things she finds, so we wanted a way for people to sort her own writings from her reposts. She also writes reviews and we wanted visitors to be able to find them easily too. We set up three categories; Yvonne's Posts, Reposted Gems and Reviews.
Here are the links to two of Yvonne's posts.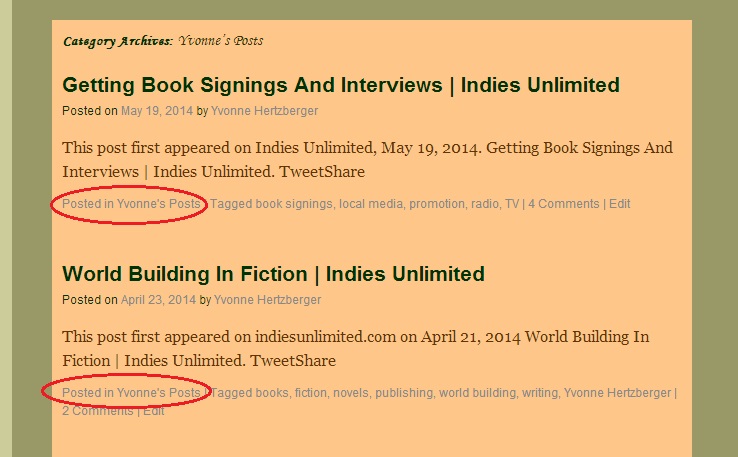 You can see that they are both 'posted in Yvonne's Posts' but they have different keywords.
Why get excited about this? Well, once you have made a few categories for your posts, not only can you list them in your sidebar, you can pick some to go in your main menu. Readers can click straight to the posts they might like to read most, without making them trawl through your whole blog in reverse chronological order.
Here is how Yvonne's main menu looks: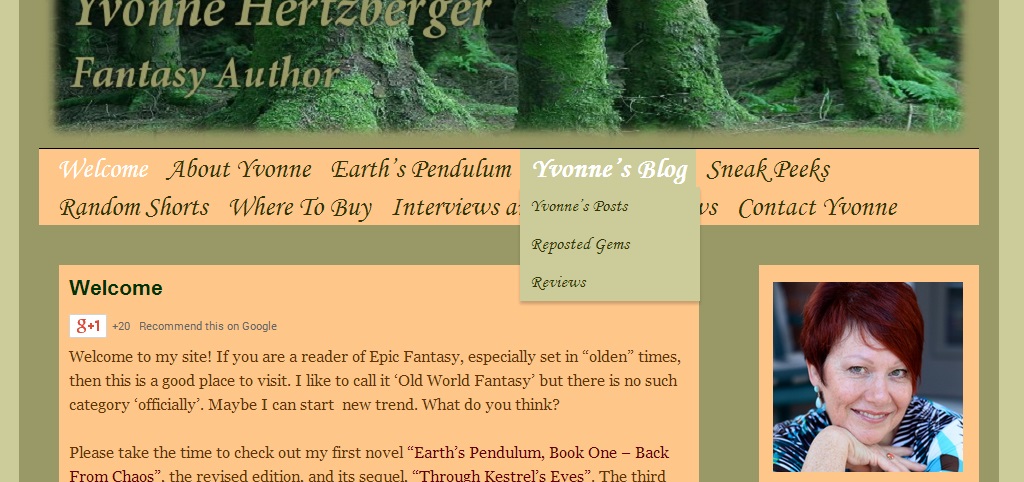 When you hover over the link to her blog, the drop-down gives you the available categories to choose from.
Here it is again without any hovering:

We decided to add the reviews as a main item as well. Whichever way you click the category, it will take you to that selection of blog posts. This technique is especially useful if you write posts about several different things on one website. Here's my blog:

All my categories are in the menu, so people can go straight to the book podcasts, or interviews etc if they like. Some WordPress themes have an option for two menus, so you can put pages in one and categories in the other, which is even more exciting, but then I`m easily pleased by sad, geeky things. It all works fine with one menu, and on both self-hosted sites and wordpress.com.
If you want to do this for your website, here's how. If you don`t maintain your own blog, stop reading now and ask your webperson to do it for you.
Begin with the sidebar of your WordPress dashboard. Hover over Posts and click Categories.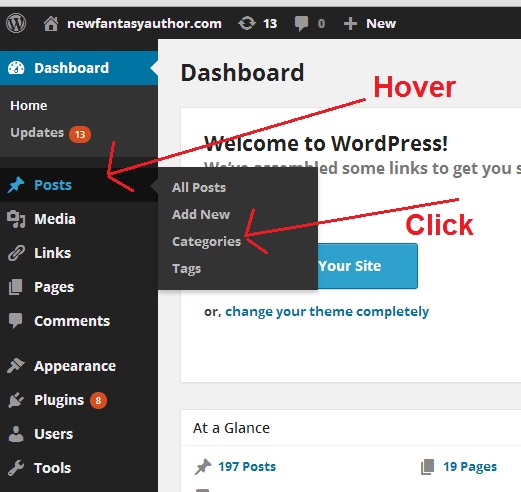 The next page gives you information about any current categories on the right and the places to add a new one to the left. Fill in the boxes…each one has an explanation underneath to help you..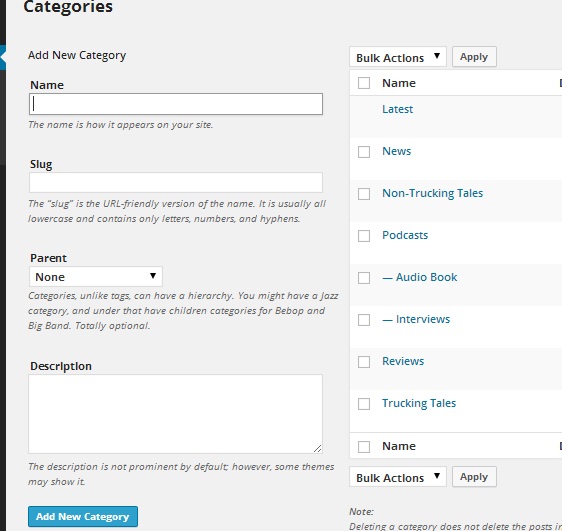 Leave the Parent box at None, unless you want to nest your categories…the text under the box explains this too.
Once you have clicked Add New Category you will see it/they pop up to the right of your editing pane when you write a blog post. You can check one category or several, here's one of mine. (Hello Mary, that interview was great fun.)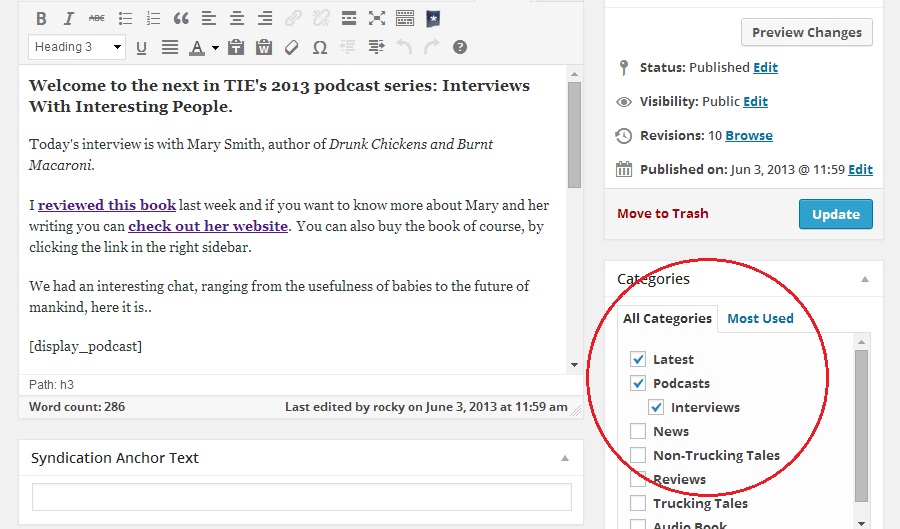 If you want a category list in your sidebar, you will find it pre-installed on the Widgets page in your dashboard. You don't have to call it 'Categories', you can name it whatever you like; 'I write about:' or 'Find a post about:' or 'Some cool, funky things:' You'll find Widgets under Appearance in the dashboard sidebar.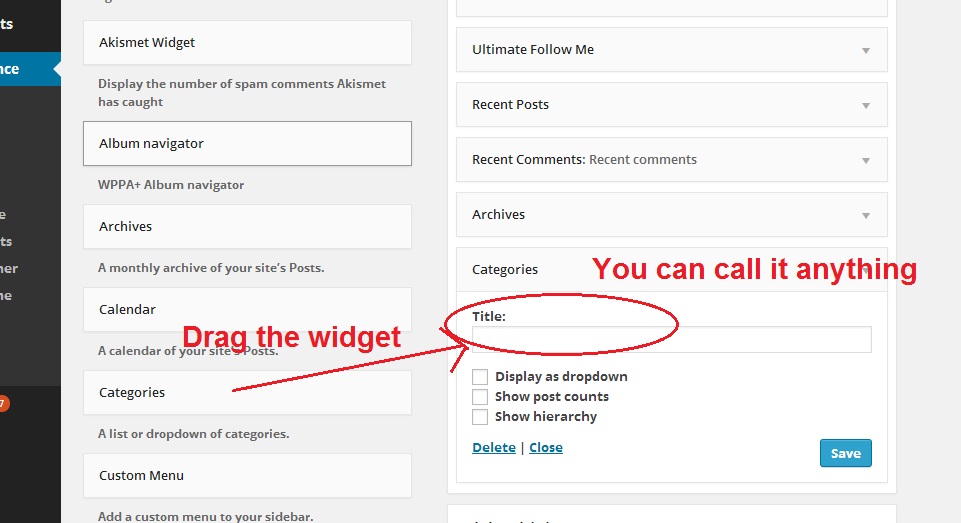 To put some, or all of your categories into your main menu, go to Menus (also under Appearance). The page gives you three options to work with, Pages, Links and Categories. You can mix and match these however you like. Click Categories for the dropdown to show you all the items you have available to drag into your menu.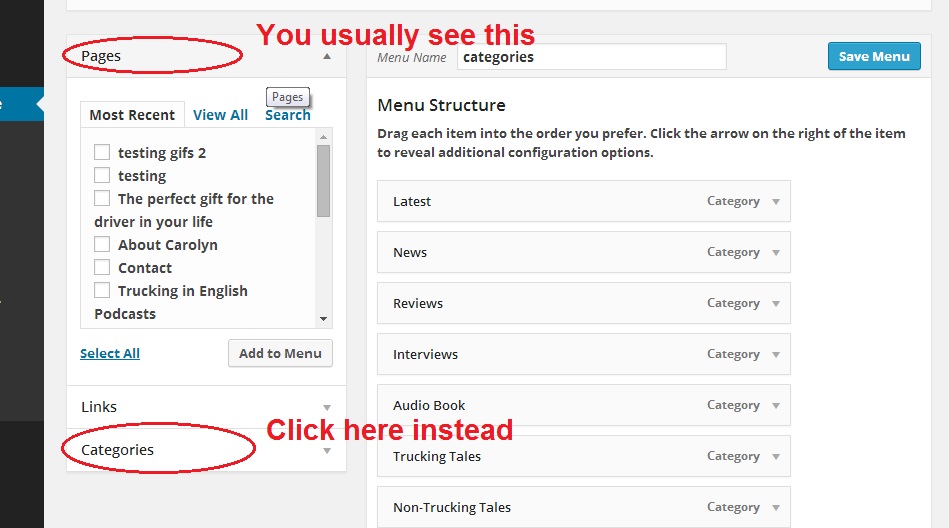 And if you've forgotten how to make a custom menu, click for a post about it.
Have fun luring your readers deep into the heart of your website.