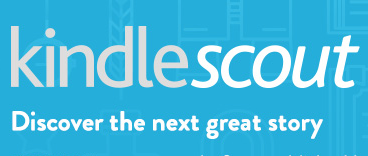 Amazon, in its continuing quest to come up with innovative ways for us to sell books, has created a program called Kindle Scout. Think of it as a cross between the Amazon Breakthrough Novel Awards and regular ol' KDP. As with KDP, you upload your book and cover image (with a few tweaks to your info that I'll get to in a sec), and the Zon puts it up on their site for you. But as with the ABNA, there's a crowdsourcing component, and a prize at the end – in this case, a $1,500, five-year contract with the Zon's new Kindle Press.
Say what you will about it, but I think Amazon's heart is in the right place with this one. Two of the hardest things for an indie author to do are to get noticed in the Zon's giant slush pile and to grow your fan base. Kindle Scout is all about helping you market your work.
Here's what I mean. This is the first page of the submission process.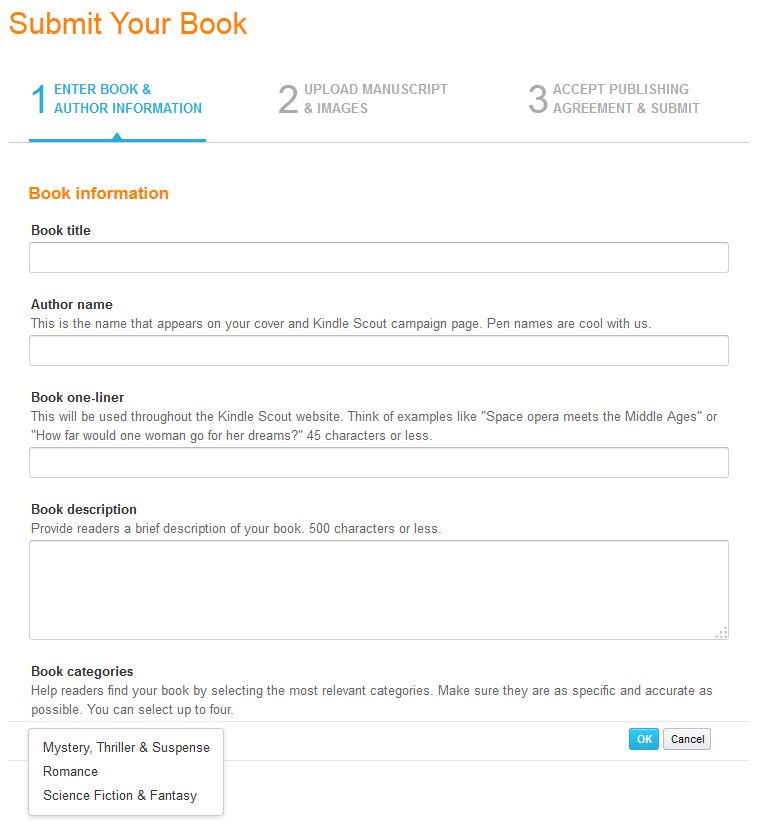 Book title, author name, description, and categories are all familiar to anybody who's dealt with KDP before. But there's an additional box for a "one-liner." They're looking for a 45-character tagline for your book – in other words, a marketing slogan. For my book Seasons of the Fool, I came up with, "A Fool's journey begins with a single step…."
The book description box, too, is looking for characters – 500 of them, to be exact – instead of words. If the Kindle Scout vetting process is anything like the one for the ABNA, the first cut probably relies pretty heavily on a punchy blurb. Our resident blurb doctor, K.S. Brooks, tells you how to write one here.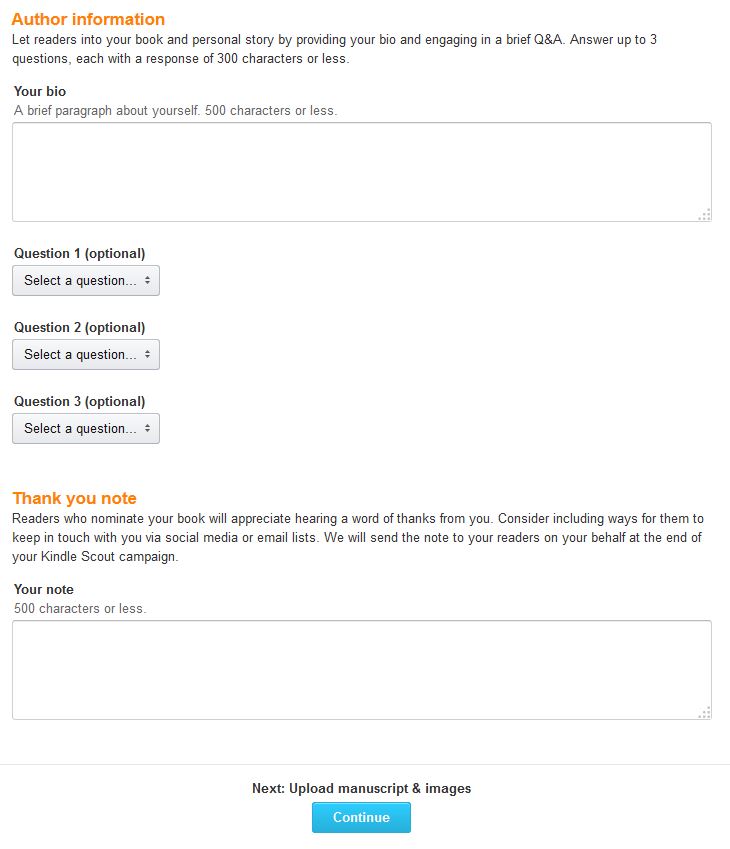 On the next screen, (see above) there's space for a 500-character bio (again, characters instead of words). And the Zon is offering you the chance for a three-question interview. The Q&A is optional, but you'd be crazy not to do it. Your answers might intrigue a reader enough to nominate your book. And one of the questions is, "Where can readers find out more about you?" Hello, free publicity for your blog/website/mailing list! I'd recommend picking your questions from the list and drafting your answers ahead of time, as the Zon only gives you 300 characters for each response.
The Zon also requires you to draft a thank-you note, which they will send when your campaign is over to all the readers who nominated your book. And they suggest that you include links in your note for your website and/or mailing list, so all those folks can find you again. Hello, more free publicity!
Once you've uploaded your author photo, book cover (which needs to be bigger than a KDP cover – 2820 x 4500 pixels is optimal), and manuscript file, the Zon will take a day or two to go over everything and let you know whether you've been accepted. In the meantime, you can start figuring out how to get everybody you know to nominate your book.
Here's the Kindle Scout page for Seasons of the Fool.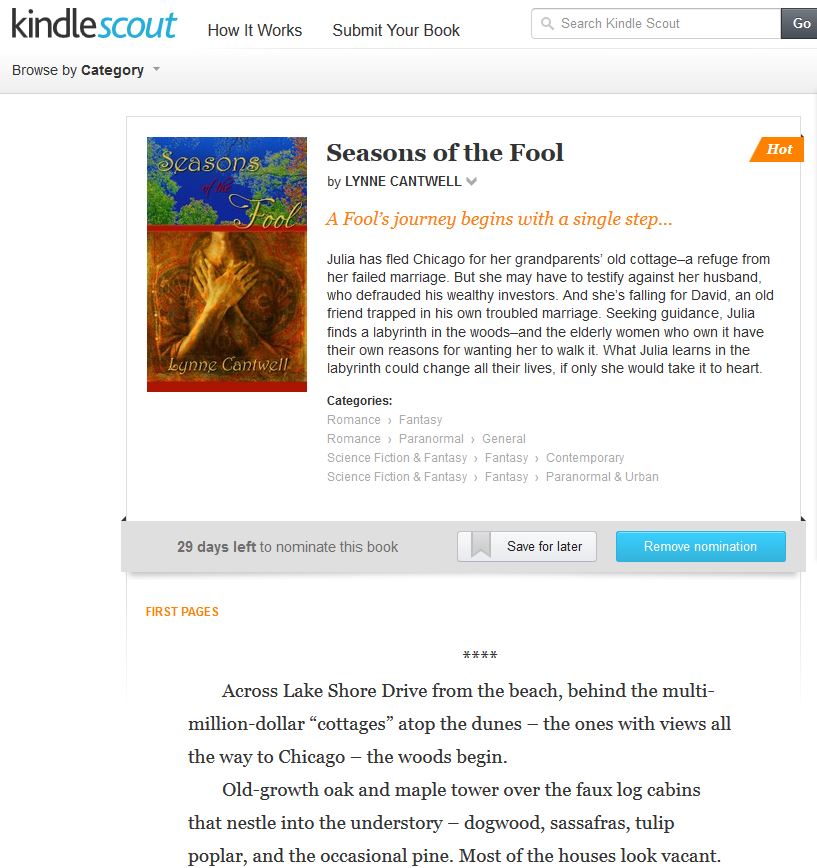 Looks pretty nice, don't you think? And yes, they'll let you nominate your own book. Don't ask me how I know that.
[Feel free to click through and throw a vote Lynne's way! – The Admins]