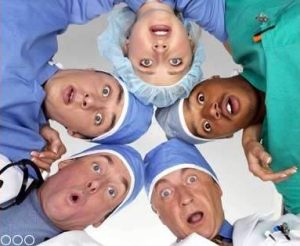 In my last post, I grumbled about mistakes commonly made in book descriptions/synopses. If you missed that phenomenal piece of curmudgeonly brilliance, you can read it here. This week, I pony up and come through as promised – the Blurb Doctor is in. Trust me, this is going to hurt me a lot more than it hurts you.
Writing a book description or "book blurb" can be the most difficult part of the process for some authors. I don't know why I have a knack for it. I also don't know how some people have figured that out (before I came out of the closet with it just now) and have approached me to help them with theirs.
If you're just getting started, you should check out our Book Description Basics article.
I tried to devise a formula that could be used by anyone for any book of any subject. Would you like to know how that went? Well, it looked something like this: 
Line 1: Hook.
Line 2: Something about the book.
Line 3: Something about the book.
Last Line: Reel 'em in with a juicy question.
Yeah, it didn't go so well. I discovered that writing the blurbs – for me, anyway – is intuitive. And without a blurb to doctor, well, that made it nearly impossible for me to advise what should be done. So, I dissected one of my own book blurbs and formulated the following pointers and guidelines.
#1 – Keep your book description between 100 and 200 words. A reader's time is valuable. Don't make him/her work to figure out if your book is interesting.
#2 – Stay on point and true to the story. Your book description should be like an express lane on a highway which leads the reader quickly and directly to Sale City. The express lane should be a straight line, and there should be no detours. Detours may cause the reader to lose interest and pull off to the "people who bought this also bought" rest area.
#3 – Less is more. Who, what, when, where, why and how is really all you need.
#4 – Third person. ALWAYS. I find being bombarded with I, I, I  to be annoying. Also, it reminds me of the Frito bandito which makes me hungry.
#5 – A question is acceptable as your final "grabber." Too many questions may result in the reader thinking "how should I know?" or "I really don't care."
I understand authors don't enjoy summarizing their 300 page novel into two paragraphs. Because every word they wrote was perfect and worthy of attention, I'm sure. It's really not that bad when it's approached logically. The best method for writing a book description/sales blurb is to make a list of the major conflicts, the pivotal points, and the most important characters, in the order in which they happen and/or appear. If you mention a new character, briefly explain who they are and how they relate to the story/other characters – but only if they're necessary. Weed out the details of lesser importance…until you have what you want.
Introducing too many characters will confuse the reader. Adding them to the mix without explaining who they are (and when they're not really necessary) is even worse. The other day I read a book description that went like this (I've changed everything to protect the author here): "Serena, a half-koala/half-woman, who falls in love with Jasper, a werewolf, and they hang out with his friends and then suddenly a friend of Jasper's is murdered by Walter so they all go searching." Searching for what…or whom? And since Walter is never mentioned again, why even bring him up? They hang out with his friends? This sounds more like an episode of Glee than a book I'd want to read. Where's the conflict? And why isn't that a grammatically correct sentence? How about "a friend of Jasper's is murdered, which brings everyone together in a man-hunt for his killer"? Short and sweet: Who, what, when, where, why and how.
You never want potential customers to walk away with more questions than they had when they started. The only question they should ask at the end is: how do I get this book NOW?
Okay, now let's look at a book description. Here's the one for my most recent novel, Night Undone. The book itself is 272 pages. The book description is 158 words: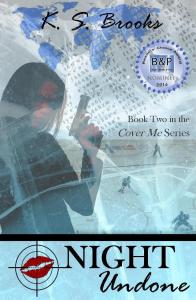 Former Special Agent Kathrin Night is not adjusting to civilian life. More than a year after her career-ending injury, she still can't get the hang of it. This is wearing thin on her lover, Russian FSB Agent Aleksey Khovechkin, who tricks Kathrin into seeing a psychiatrist specializing in post-military/espionage patients. The therapy doesn't go exactly as Aleksey hopes, but before he can react, Russia recalls him to make him an offer he can't refuse. Prior to his departure, Aleksey reveals his deepest, darkest secret to Kathrin. Had he, in fact, used her to escape his duties in Russia, or was his allegiance to her genuine? Determined to see justice served, Kathrin hatches a scheme to help Aleksey while at the same time reviving her career in espionage. The Vancouver Winter Olympics could be the perfect venue for her plan, but can she pull it off without destroying their relationship, causing an international incident, or getting either of them killed?
Okay, yes, there are two questions in there. So sue me.
Now, let's pick it apart. The first sentence is always your hook, no matter what you're writing. In this case, it's the most prevalent theme in the book. You immediately know who the main character is, as well as the main conflict. Career-ending injury? – more internal conflict. Introduce another major character, and the conflict he brings. Straight line to what happens next in the story. Notice there's nothing about the psychiatrist (Dr. Scully) as in her name or what is discussed in the sessions with her. There's no backstory about Agent Night, or Aleksey. It's just not necessary.
We're still heading in a straight line – directly into what happens next. Clearly, something goes wrong in therapy, but the blurb reader doesn't know what. They don't need to know – that would be a spoiler, wouldn't it? You can be vague without being cryptic. On the same note: Aleksey's deepest, darkest secret is revealed. This is a pivotal point in the book. It unleashes even more conflict. Still moving forward…
Night Undone is a character-driven drama. So, up until now, the conflict is mostly psychological. Then there is another shift in the story – when the action becomes physical and the level of suspense gets turned up a notch. So, you bring the story, the blurb and the suspense to a crescendo with your final question.
A few points: There are plenty of other key characters in Night Undone, but mentioning them would bog down the book description. The story is the focus here – not the international agents involved or the Chinese food or the fact that Agent Night starts having flashbacks. I actually had the flashbacks in the book description at one point, then edited them out because although they make the book more interesting, the storyline would be the same without them.
If you want more examples, there are nine of them on my Amazon.com Author Central page. I don't feel right giving out the book descriptions I've written for others. Now go for it. I know you can do it. Trust me, I'm a doctor.