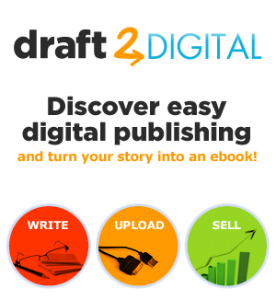 When I first started self-publishing, the conventional wisdom said to publish direct to Amazon and use Smashwords to distribute to other online stores, such as Apple, Barnes & Noble, and Kobo. But, shortly after I did that, I started hearing about another player in the field, Draft2Digital. Everyone who used D2D described it as wonderful, but I was still hesitant to try something new, so I didn't.
However, after it took 23 days for Smashwords to implement a price change at one retailer, I was ready to try something new. With my most recent novel, I decided to give D2D a try. And now, I AM IN LOVE.
Not "lust." Not "infatuation." Not "really hot for." But truly, deeply in love.
So, how did that happen? Well, my experience with D2D was pure ease. Previously, I had to get my file ready for the MeatGrinder, which meant poring over the Smashwords Style Guide to make sure everything was perfectly formatted. This is not an impossible process, but it is time consuming when my time is limited. In the past, I'd format my document for Smashwords first (because it had the most stringent requirements), then use that to make my Amazon document. With my most recent novel, I formatted it for Amazon and used that as the base document. When I uploaded it to D2D, it said thanks and showed me what my document would look like. If I wasn't happy with the formatting, I could change it. Did I mention that Smashwords doesn't do that? Sure, you can download the final version of your document and make changes if you don't like it, but "Review your document" isn't a step in the process. It just publishes what it thinks is okay.
When I reviewed my D2D document, it was perfect. I picked retailers and a price, then hit publish. I was done with my part; now all I had to do was wait for the book to show up at the various retailers. With Smashwords, the only way you find out if your book made it to a site is by checking. So, I assumed it was the same with D2D and checked Barnes & Noble the next morning (I'd uploaded my document around 8 pm). It wasn't there. I figured I'd check again later. About 1 pm, I got an email saying my book was live on Apple's site, and giving me the link. Oh, my heart leapt with joy. Seriously, it sang. That was soooo easy. Emails from D2D telling me my book had been uploaded to the other retailers trickled in through the day. I clicked the link, looked at my book, and smiled. That was so easy.
So, I am a 100 percent D2D convert, now. I'm not to the point where I'll knock on people's doors and ask if they have a moment to discuss the best options for distributing their eBook. However, do not mention distribution to me at a cocktail party unless you've got a friend willing to come tap you on the shoulder in the three minutes to rescue you from my proselytizing.
Now, on the downside, D2D does not offer the same reach as Smashwords. As far as I know, Smashwords is the only way for indies to be available to OverDrive, which is the eBook system most libraries use. The Smashwords catalog is also available to users of Oyster, a subscription eBook service similar to Kindle Unlimited. Finally, Smashwords has a storefront that actually sells books. This storefront also allows you to create coupon codes to give your books free to reviewers, fans, or whomever you choose. (If you're unfamiliar with these, you can see how to make a Smashwords coupon here.)
So, the truth of it is, I'm a convert in terms of distributing to retailers. However, I'm not opposed to using Smashwords if you want to be available for Overdrive or Oyster, or want to give your book away with or offer discounts by coupons (as far as I know, Smashwords is the only site that lets you give your readers coupon codes). If you're looking for a system that's easy to use and communicates with you, definitely go with D2D.