Smashwords is sort of an enigma. Loved by many, hated by many, and yet still many more who just don't know what the heck to do with it. And what in god's name is a meatgrinder, right? Well, despite all the hiccups people have, I've been finding Smashwords to be quite awesome lately. Let me tell you why.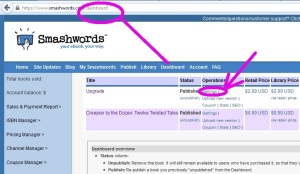 First, let's check out the dashboard since pretty much everything starts out there. You'll see all the books you've published with Smashwords as well as your sales statistics (which I've blocked out). There are also a bunch of handy links to the left in blue if you prefer to use those. But, if you want to just check out what's going on with an individual book, decide which title you want to make changes to and click settings (circled in fuchsia). This will bring you to a new screen.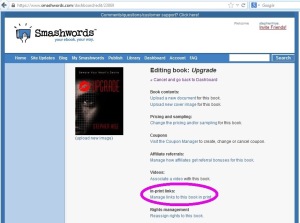 There's a lot you can do from this edit screen. Smashwords even gives you the opportunity to display links which go off-site so people can purchase your books in print. You will have to provide the links to those sites yourself. So let's add those links now. It's quick and easy. Go ahead and find the links you want to use first – I'd recommend Createspace (if you're using them) because you get a much higher royalty there. Go ahead and include your Amazon link too. Don't forget to monetize that link! (Don't know how to monetize an Amazon link? Check out our tutorial for that here.) Go ahead and click on "In-print link."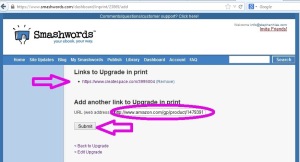 A new screen will open. Just paste in the link that you want people to use to purchase your print version, then click "Submit." If the book is available in print in a lot of places, go for adding as many links as you can. Why not? For now, though, we're just sticking with Createspace and Amazon. When you're done adding your links, click the "Edit" hyperlink at the bottom left-hand corner of the screen.
Once you're back at your book's edit screen, you can add a book trailer video. Clicking on that link will bring you to a new screen which will allow you to add a title, a description, and a YouTube embed code. Pretty nice, huh?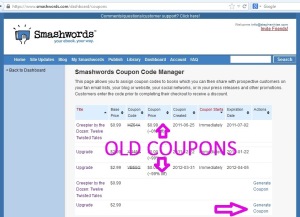 Now we come to probably my favorite thing about Smashwords: the Coupon Manager. What other company gives you the ability to create a discount coupon for a book – for ANY percentage off – including FREE? Ha! Nowhere that I know of. This is fantastic for dishing out free copies to folks with different ereaders to make sure your formatting looks how you want it. It's great for beta readers, too. Once they've all downloaded their copies, you can then unpublish your book so no one else can purchase it before you're 100% ready to let her rip. I especially like how convenient it is to send a free copy of an eBook to reviewers. Creating a coupon is easy. My preferred method is using the Coupon Manager. So, click on Coupon Manager at the left-hand side of your screen. It will bring you to a new page (above, left). That will show you all your old coupons – with the coupon code crossed out. Scroll down to the bottom to see which books are eligible for new coupons. Click "Generate Coupon" to the far right of whichever book you want.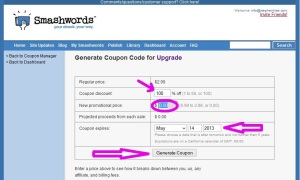 On the "Generate Coupon" page, next to coupon discount, enter the percentage you wish to discount. If you want the book to be free, just enter 100. Smashwords will do the calculations for you. Choose the date you want the coupon to expire (or if you don't, it will default to one month), then click Generate Coupon and you're done. (Click on the image above to enlarge.)
But that's not all! My absolute favorite thing about Smashwords is the fact that you can set up your notifications so that each time someone purchases your book(s) – with or without a coupon – you get an email (see below).

This is especially cool if you've given a book reviewer a free coupon for your book – you can see when and if they actually download your book(s).
Tomorrow we'll be having a Smashwords fest, so go tidy up your book's page!