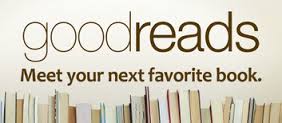 We've had several posts about Goodreads. Melinda Clayton gave an excellent primer on it not too long ago, as well as an introduction to the ways you can advertise on it. As Melinda pointed out, there are several ways to advertise with Goodreads. I tried out the self-serve method, and I was happy with the results. I'll tell you what I did, but let me put in a small disclaimer: The ad campaign may not work the way you think it will.
Here is how Goodreads describes the process.
• Easily create an ad for your book or product. (They're right; it is easy. You insert the name of your book and the ISBN or ASIN and they fill in the cover image, description and links to your book on Goodreads.)
• Add credit to your account by prepaying. Each time someone clicks your ad, the bid will be deducted from your Goodreads account. (The great thing about this is that you don't have to go crazy. I advertised three of my books, putting a total cap on each of $10.00.)
• Your ads will show on Goodreads in locations where members are searching for and exploring books.
• Target your ad by book genre, location, gender, or age. (You can choose from a large selection of genres — as many as you want — or you can just choose everyone.)
• View custom stats for your ad to see views, clicks, and the number of Goodreads members who add your book. Watch as Goodreads' virality helps your books numbers grow via word of mouth. (Now this is where it gets interesting.)
Your ad will show up in searches over and over, but you won't be charged anything unless someone clicks on the ad. As long as you still have a credit balance on your account, the ad will continue to run. In this way, I actually see it as a good thing when people don't click on your ad. Why? Because you continue to get visibility at no cost. Remember Lynne Cantwell's post on effective frequency? (And notice the frequency with which we refer to it?) The first few times a reader sees your ad, it may not even register. Then, they may think, "Oh, yeah, I've seen that before," and move on. But eventually, they might think, "Hm, wonder what that's about?"
One of my books racked up a total of 80,894 views before the $10.00 was eaten up by 50-cent clicks. Eighty thousand. Another book had 94,803 views, and the third had 97,347. Almost one hundred thousand views before the $10.00 was used up. Now if you're looking for instant results, over the length of any of these campaigns, only 20 people actually clicked on any one ad before the credit was used up. That doesn't seem like much. But when you take into account the exposure — almost one hundred thousand views per book — that's pretty impressive. We all know that building a platform and building name recognition is a never-ending job. We don't do that overnight. We don't do that with a single shot. We do it slowly, over time, getting our name out there over and over and over until it finally starts to register with people. "Oh, yeah, I've seen that name before." And that's exactly what this kind of ad campaign does.
I felt this campaign was totally worth the few bucks I spent. And it's great fun to check your numbers and watch them rise. Goodreads also allows you to see how many readers put your book on their TBR list, as well, which is, of course, what we're aiming for in the long run. All in all, great exposure, very inexpensive and fun — you can't beat that with a stick.