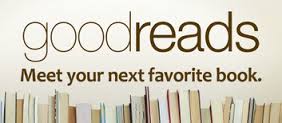 Goodreads has been in the news quite a bit the past year, first for joining up with Amazon, and second for the well-publicized tension between authors and reviewers. All this discord has frightened some authors away from Goodreads. This is unfortunate, because Goodreads offers a variety of opportunities for authors.
One of those opportunities is their paid advertising option. You can access the paid advertising option midway down on your dashboard: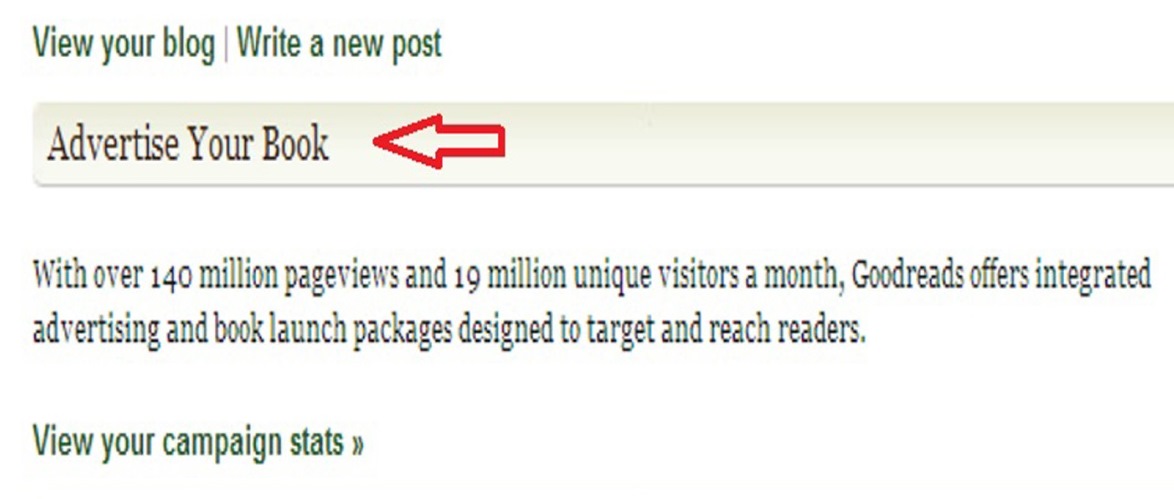 Clicking will take you to their "Advertise With Us" page, where over on the right you'll see a "Self-serve advertising" link: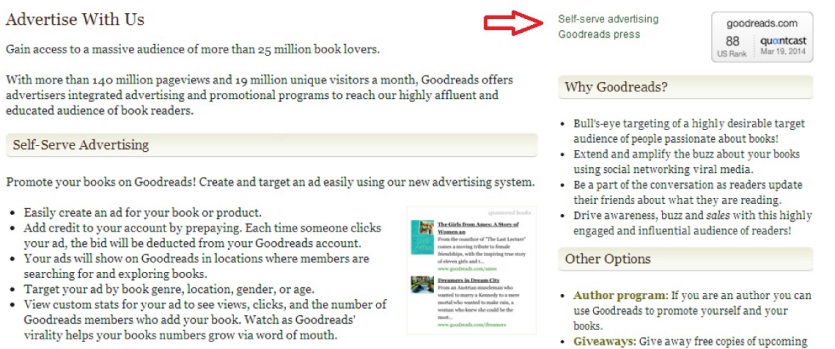 When you click on that link you'll be taken to a "Create a New Campaign and Your Ad Within the Campaign" page. This sounds complicated, but it's actually a very nice feature because it allows you to advertise any or all of your books at the same time. Each individual book is an ad, and the whole is the campaign.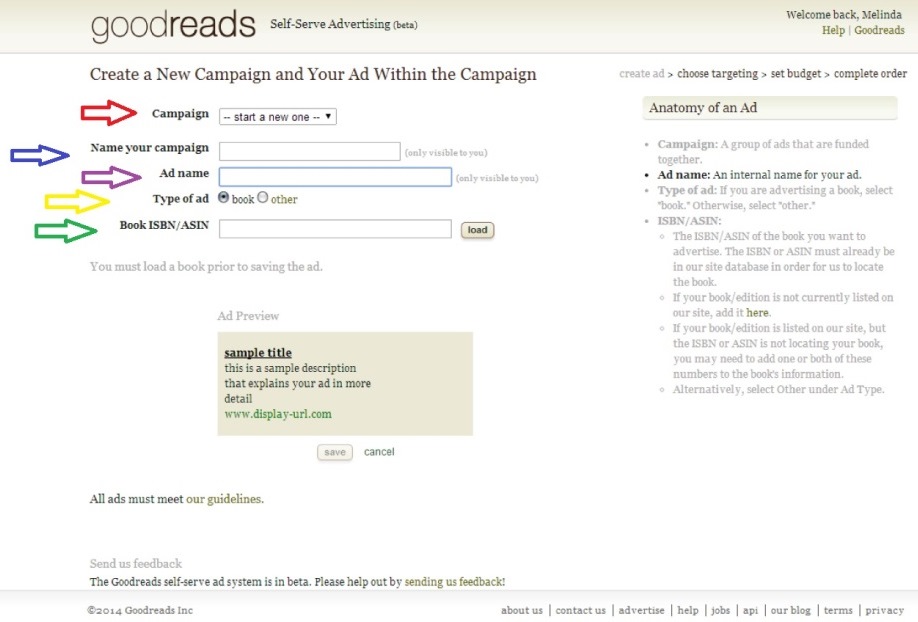 First, you'll choose to start a new campaign (red arrow above).
Then you'll name the campaign (blue arrow above). Choose any name you like. When I first republished my books I named the campaign, "My New Books."
Next, you'll name the ad (purple arrow above). For simplicity's sake, my ad name is always the name of the specific book I'm advertising.
The yellow arrow above points to "Type of ad" and lists "book" or "other." I've never been sure what the "other" might be. Check "book."
Finally, enter the book's ISBN or ASIN (green arrow above) and click to load. Note: The book has to be listed on Goodreads in order to run the campaign/ad.
This will pull up your book and you'll be prompted to enter a book description. You're only allowed 140 characters, so it's an exercise in creativity. For help, visit IU's Elevator Pitch post.
Once that's done, save it (bottom of the page), and you'll be taken to a page where you can choose your target audience: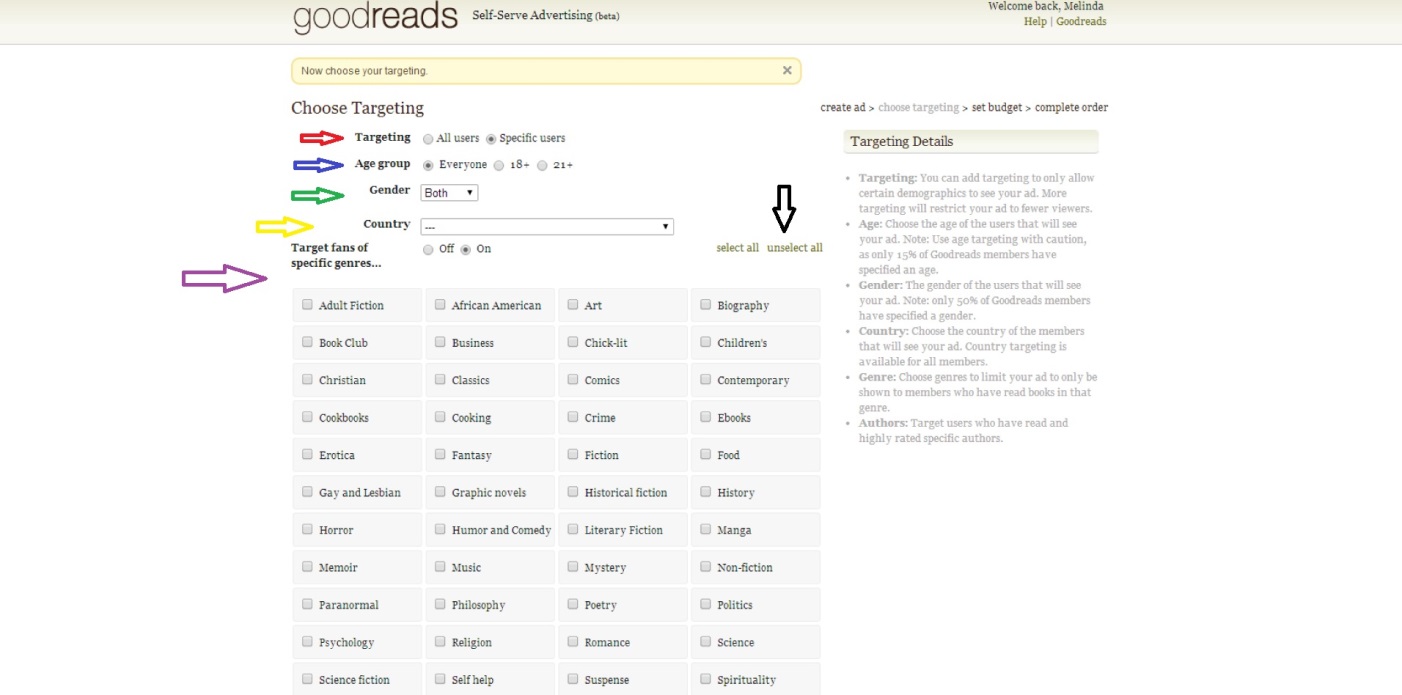 You have the option to target all users or only specific users (red arrow above). Determine the age group you want to target (blue arrow). Next (green arrow), determine the gender you want to target (either or both). Choose the country/countries (yellow arrow).
If you've chosen to target specific users, you'll notice all options (purple arrow) are initially selected. You can deselect (black arrow) to go through and manually select the users you want to target.
Once that's saved (bottom of page), you'll be taken to the "Set Your Budget" page: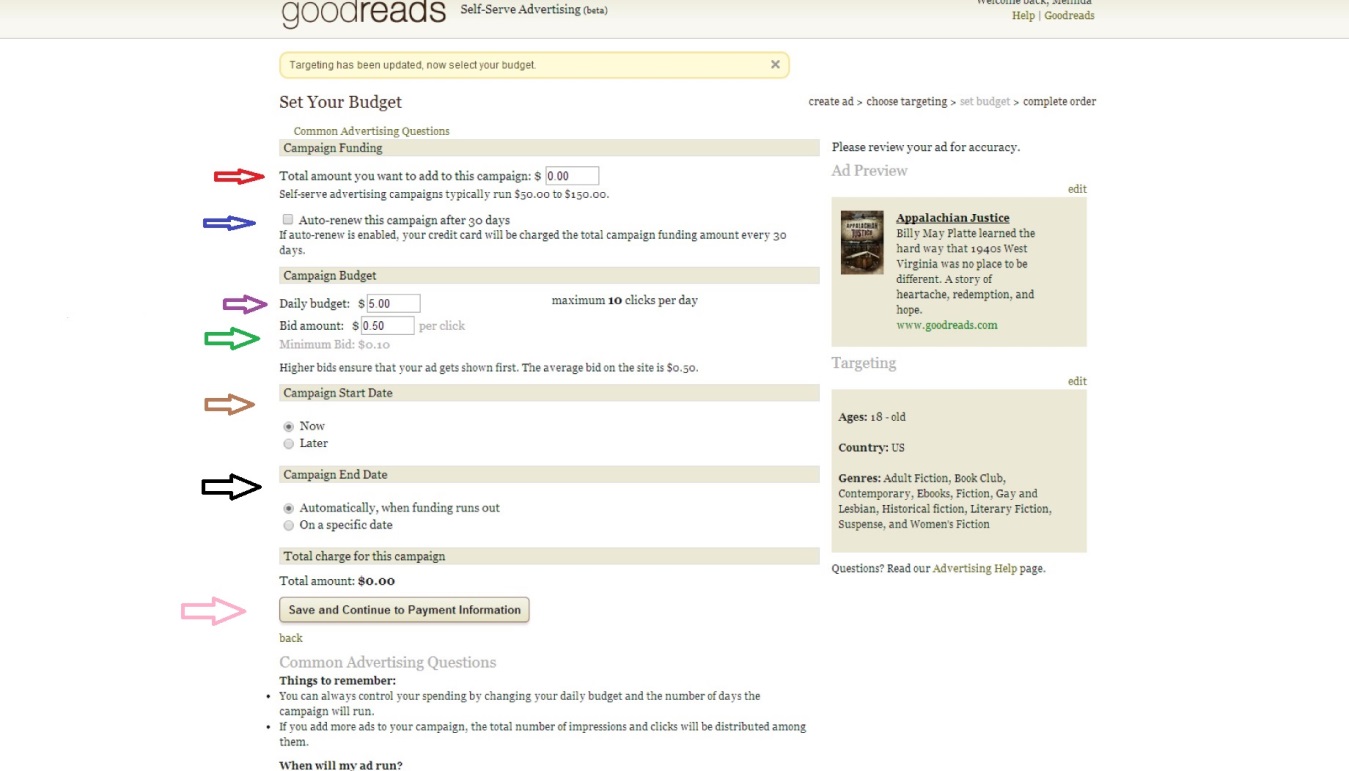 Enter the total amount you want to spend (red arrow above). Goodreads suggests between $50-$150, but you can set it for any amount you want. Being cheap frugal, I go lower.
You have the option of auto-renewing after 30 days (blue arrow).
Enter your daily budget (purple arrow). Goodreads' default setting is $5.00, but you can change it.
Set your bid amount (green arrow). Goodreads' default is $.50 per click, but again, you can change it.
Determine if you want the campaign to run now or later (brown arrow).
Decide if you want the campaign to end on a specific date, or when funds run out (black arrow).
Save and continue to payment information (pink arrow). This will take you to a page to enter your credit card information.
It takes 1-2 days for a campaign to be approved. If you want to add more books to your campaign, go to your campaign stats page. To find it, go back to your dashboard, scroll down, and click, "View your campaign stats." This will take you to a page where you'll find a link to add more books (ads). You can find your advertising dashboard here.
Your stats are also listed on the campaign page, including money spent, clicks, books added, etc. If you scroll to the bottom of the page, you can pull up graphs for each.
You'll also get a daily email from Goodreads letting you know how many clicks you had as well as how many people added your book(s) to their reading lists.
I think of a Goodreads ad as putting my book on a table at the front of the store, as opposed to having it stuck somewhere on a back shelf. As Lynne Cantwell discussed here – it's all about effective frequency.