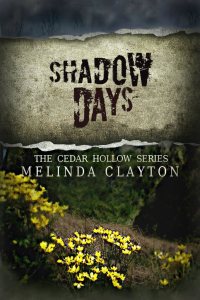 On the anniversary of her husband's death, forty-nine-year-old Emily Holt runs away, leaving an unmade bed, an unlocked house, two college-aged sons, and an overabundance of bad memories.
Struggling to make peace with the death of a husband who'd been lost to mental illness, she vows to drive to the end of the road, which, she's surprised to find, is just outside the tiny mining town of Cedar Hollow, West Virginia.
As Emily struggles to redefine and rediscover herself, the good folks of Cedar Hollow are more than happy to help.
Shadow Days, the Southern fiction book by Melinda Clayton, is available at Amazon.com and Amazon UK..

Don't forget, you can cast your vote for trailer of the month on December 27, 2014 at 1 p.m. Pacific time.