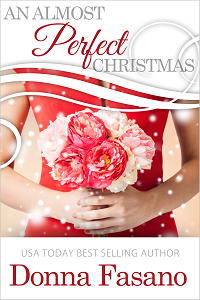 When it comes to business, Aaron Chase knows how to succeed. But when his daughter, Izzie, asks him for the perfect family Christmas, the handsome widower feels at a loss about how to fulfill his little girl's dream.
Pediatric Nurse Christy Cooper has dedicated her life to taking care of children. She agrees to act as Izzie's stand-in mom for this special holiday and throws herself into making the child's Christmas wish a reality. Maybe this selfless act will somehow alleviate her secret regrets and failures of the past.
The holiday is filled with fun and laughter, and it's amazing how three short days can be so life-changing. When the impish eight-year-old talks the adults into acting out a silly, make-believe wedding, young Izzie is certain the magic of the season will turn the pretend vows into the real thing. The little girl wants her daddy to have Christmas in his life — every single day.
An Almost Perfect Christmas is available for eBook and in print from Amazon.com, Barnes & Noble, Amazon UK, and all online booksellers.

Don't forget, you can cast your vote for trailer of the month on December 27, 2014 at 1 p.m. Pacific time.