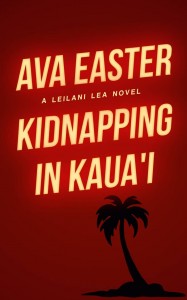 Kidnapping in Kaua'i
by Ava Easter
4.8 star average on 5 reviews
157 pages
Danger lurks in paradise…
Leilani Leia lives on Kaua'i with her Auntie Rita, a GMO-protesting organic farmer. Lani's biggest worry is about starting high school, until she stumbles upon a secret field in the mountains, and bites into a strange, new fruit.
Suddenly, the island's ancient gods and legends come alive for her. A waking giant causes a landslide, a beautiful woman sets fire to her hair, and Hawai'i's mythical ancestors, the menehunes, leave mysterious clues for Lani to find.
Thinking she's going lōlō — Hawaiian for crazy — Lani decides to ignore these strange visions. But, when Auntie Rita is kidnapped, everything changes.
Lani knows the kidnapping is connected to her visions, and only the ancients can help her figure out who committed this crime. She can't ignore her new powers any longer — without her help, Auntie Rita might be gone forever.
Kidnapping in Kaua'i is available on Amazon.com and Amazon UK.
Excerpt from Kidnapping in Kaua'i by Ava Easter
Continue reading "Saturday Book Showcase: Kidnapping in Kaua'i"