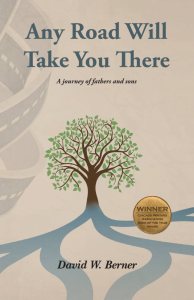 Any Road Will Take You There
by David W. Berner
Genres: travelogue, memoir
Available from Amazon.com and Amazon UK
Recently divorced and uncertain of the future, a middle-age father takes his teenage sons and best friend on a 5000-mile road trip to rekindle his spirit. But a family secret turns the journey into an examination of fatherhood, revealing the struggles and triumphs of being a dad, and the imperfect ties that connect us all.
 Book Excerpt:
Denver was in front of us now. Graham watched a movie on the computer. Casey aimed his video camera at the road sign marking the mileage to Denver. Soon we would meet my friend Brad and then settle in for three full days in the city that was the nucleus of Kerouac's On the Road. We were following the rough plan of a road map, but somewhere in a dusty corner of Colorado, it became clear how irrelevant any map really was. A couple of years before he died, George Harrison sang a song in a surprise performance on VH1. The lyrics to "Any Road" emerged from my memory as if illuminating the pavement in front of me, words about taking a road, any road, to find out where you're headed. Yes, I wanted to stay true to Kerouac's travels, but it really didn't matter. Any road would take us where we were going.
What others are saying:
"The impact this book has on the reader is a compelling realization that each of us – fathers, sons, grandfathers – faces the same questions of the matrix of the bond that somehow is never broken, no matter how the polar ends are strained. Highly recommended." – Grady Harp, Amazon Hall of Fame, Top 100, Vine Voice Reviewer