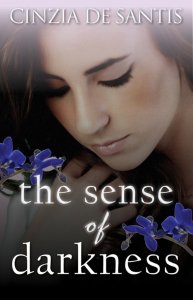 The Sense of Darkness
by Cinzia De Santis
Genres: suspense, romance, thriller
Available from Amazon.com and Amazon UK
A world of smell and touch is all Clara knows. Blind from birth, she grows up in a remote village surrounded by violence. Gifted with an extraordinary sense of smell, she becomes a famous healer, but her world shatters when a wounded stranger bursts into her life.
 Book Excerpt:
Clara went back to the man's room. There was no part of his body that didn't smell of death. The bandage she had put on him was already full of pus, and she had to change it. She gave him two more spoonfuls of her medicine and sat on the ground next to his bed, waiting for the remedy to take effect. Exhausted, she leaned her head against the wall, hoping for some rest. Suddenly she became aware that, in the midst of the stink of death, there was another smell. It was something she had never known before, at the same time disturbing and exciting, and it intoxicated her.
What others are saying:
"The Sense of Darkness has love, romance, betrayal, compassion and mystery…an engaging story that I recommend without hesitation." – RMacLean, Amazon Reviewer