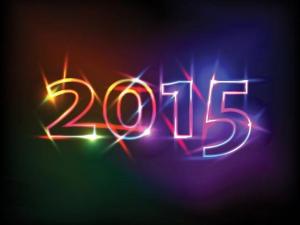 Thank goodness last year is outta here. Some good stuff happened, some okay stuff happened, and some stuff happened that I wish never had. We won't speak of those things here. Instead, we will look forward to the blank slate that is this shiny, new year.
Did I mix too many metaphors in that last sentence? Well, we'll just add that to this list of Indie Author Things to Do Better in 2015, which I herewith submit for your approval.
1. Write more. I get it – writing every day is tough. We've all got lives – families and jobs, volunteer commitments, and commitments we've been volunteered for. It's tough to squeeze a few minutes of writing time into a packed schedule that barely affords you enough time to brush your teeth. But writing every day is a good habit to get into. And as far as I'm concerned, everything counts – even a quick blog post or a few notes on your WIP.
2. Publish better stuff. That means doing your best to polish your work before you send it off to your beta readers and/or your editor. Which means having beta readers and/or an editor. Please don't slack off on this. Indies need to be edited as well as – or better than – most trad-pubbed books.
3. Set a publishing schedule. Promise yourself that you will publish X books this year, and figure out what you need to do to get to that number. (I'm supposed to be drafting my next novel this month so that I can publish it sometime in March. Guess I'd better get on that.)
4. Set a marketing budget. This goes hand-in-hand with the publishing schedule. Figure out how much you can afford to spend to promote both your new work and your back list. If the answer is zero dollars, that's perfectly acceptable; we have a list of places where you can advertise your promotions for free. It takes time to set up those promotions, though, so…
5. Use your time on social media wisely. I have a bad habit of getting sucked into a vortex to the parallel universe known as Facebook. An hour or more can go by while my eyeballs are scoured by quiz results, videos that start rolling as soon as I scroll past them, and borderline-salacious book covers. Keep an eye on the time-wasting stuff. And for goodness' sake, don't join a gazillion writing groups just so you can drop your buy-my-book post and run. The vast majority of the author-centric groups I belong to simply delete those posts, and many admins then block the guilty parties, to boot. Join only a few groups and interact with the other group members. You'll build relationships, and you might even learn something. (Hint: Posting a discussion question with a link to your book or blog is not "interacting." That's trying to slip self-promotion past the admins.)
6. Remember to brush your teeth. Wait – wrong list. Never mind.