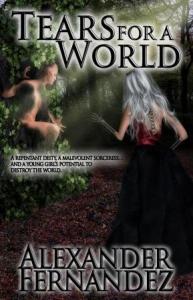 Tears for a World
by Alexander Fernandez
Genres: Fantasy
Available at Amazon.com and Amazon UK.
A bloody vein is the key to releasing the Creator from her 1,000 year incarceration. Bonded to the vein and hunted by a powerful sorceress, Marisylia must decide if the Creator has truly repented. The fate of the entire world rests in Marisylia's hands.
Book Excerpt:
One woman caught Marisylia and carefully steadied her. She peered into the woman's eyes, one friendly person amid the riled swarm. The lady smiled softly, then suddenly spit into Marisylia's face.


When the saliva splattered her cheek, Marisylia stopped caring why the citizens acted like this. Whether due to fear of the religious power, worry that it would infest Three Fingers, or simply senseless anger, none of it mattered anymore since the time to quit had arrived.

All of her determination to succeed had been ripped to shreds by the crowd. Each hand that shoved, every object that struck, drained her enthusiasm. Her devotion to the religion had drowned in the woman's spit. It was all too much. Marisylia didn't have Milick's iron skin or Shri Lilyn's boldness. She had nothing, only the desire to run away and forget everything.
What others are saying:
"With solid writing and a plot that will blow the reader away, the author has set out a great start to a brand new fantasy series." – InD'tale Magazine