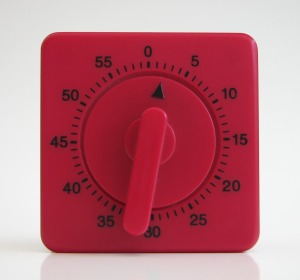 One of the biggest challenges of the pre-ordering process on Amazon is the dreaded deadline. If you're not accustomed to hitting deadlines, or if they've been a kind of self-imposed suggestion for you (not that I'm judging), it can be especially hard to do it with a book. A lot of moving parts must come together before you can hit the publish button. Also, there are consequences for not meeting this date: you lose your Amazon pre-ordering privileges for a year, and you could end up disappointing a bunch of potential readers.
Now that I've experienced the joys of a publishing deadline from both sides—as an author and as an editor—I'd like to help you develop a rough framework for planning out all the steps along the way to making that commitment. This schedule can still be helpful no matter which online retailer you choose. 
If you want to publish on a particular date, say for a holiday launch or if you've made a firm publicity commitment, work backward. It's usually a good idea to add a little wiggle room, because one of those laws of publishing (and, well, life) is that things usually take longer than you think, especially if this is your first book. Note: you might not use all these steps, and some things, like cover art, ARC reviews, and description drafting can happen concurrently, so, as always, your actual mileage may vary.
Publication date: ______ (Woot! Amazon will automatically deliver your e-book to everyone who pre-ordered it! Including you! You have ordered your own book, yes?)
Amazon lock date for all content: _____ (Ten days before publication date, all your final content—manuscript, cover, description, tags, categories—must be uploaded to KDP dashboard.)
Deliver final manuscript to formatter: _____ (Have this completed a day or two before the lock date. If you're hiring out, ask your pro how long actual formatting will take. Holiday times fill up, so book early. While formatters can sometimes be an extra pair of eyes on a manuscript and they sometimes see errors that jump out at them, do NOT expect your formatter to proofread your manuscript unless this is negotiated as part of the service. If you will be doing your own formatting, especially if this is your first shot, build in some time for a learning curve.)

Final proofread done by: _____ (If you're getting someone else's help, hired or not, ask approximately how long this will take. Depends on length of manuscript and proofreader's schedule. It's best not to rush a proofread. This is usually the last stop to make sure as many errors as humanly possible are caught before publication.)
[If you will be creating ARCs (advance reader copies) this is the most frequent time authors produce and distribute them.]

Author completes final copyedits by: _____ (Be careful here: this is the easiest place for a rushed author to either miss edits or introduce new errors. If you're in a mad hot rush, or if you've done a lot of edits, it's best to have a final proofread done.)

Copyeditor delivers final edits to author by: ______ (If you are on a firm schedule, talk to your editor as early in the process as you can to make sure the delivery date is a reasonable fit with the length of your book, the level of editing it needs, and your editor's schedule. This is especially important if you will be going through multiple rounds of editing. If this is the case, consider working out a series of deadlines for each editing pass.)

[This could be a good time to draft your book description and sort out your cover art.]
Author delivers manuscript to copyeditor by: ______ (Be sure to negotiate this date with your editor as early as you can and stay in touch if anything changes.)

Beta readers deliver feedback to author by: ______ (See note below. Beta readers are often busy and might forget or not get your manuscript read on your timetable—life happens. So sometimes it's a good idea to line up a few extra. Shh. Don't tell them I told you that.)
Author delivers draft to beta readers by: ______   (Beta readers are wonderful people who usually agree to read and comment on your manuscript out of the goodness of their hearts. If you are up against a deadline, it is okay to ask—nicely—if this fits into their plans.)
[Add in whatever time you think you'll need here based on how many drafts the project requires and the type of early critiquing you prefer to use.]
Plan cover art by: _____
Author completes second draft by: ______
Author completes first draft by: ______
If you don't have a deadline and want to estimate how long production might take, just flip this schedule upside down. Have fun and happy planning!