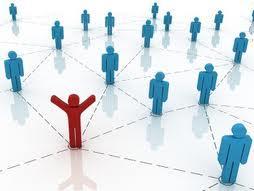 When people talk about social media, a few sites pop up in the discussion all the time. You should be active on Facebook, Twitter, and LinkedIn, they say. You'll see suggestions for other sites – Goodreads, Pinterest, Google Plus, YouTube, Instagram – but the Big 3 always seem to be Facebook, Twitter, and LinkedIn.
Facebook and Twitter are almost self-explanatory. You post about your writing and your life; you meet new people and have conversations with them. And maybe those people will like your posts and tweets well enough to try out one of your books. Or you can join groups and meet new people – both other authors and potential readers – that way.
But LinkedIn seems to mystify indie authors. What good is it to have a presence there? What can it do for your writing career?
I put up a poll next to the dart board in the deathstar's tactical operations center to see if any of the minions had cracked the code. Respondents were allowed to pick more than one answer. If I'm reading around the pinholes correctly (some people can't aim a dart to save their lives), it appears none of us has figured it out. Ten admitted going to LinkedIn only to accept offers to connect; four of us share blog posts there – including from IU – in LinkedIn groups; two post items to their timelines; two comment in forums; two endorse other people; and two admitted they can't suss out what it's for. One person said she goes there only to clean the spam out of her inbox (I admit nothing!). One said she had closed her account because she hadn't found a use for it. And four of us said we'd have a bigger presence there if it got us readers.
As we discussed the poll results around the gruel cauldron, we decided that the problem is that LinkedIn is aimed at a specific sort of networking: business connections. It's useful for perusing the want ads. And it's great for people who want to establish themselves as experts – so it could work as a platform for someone who has written a how-to book.
Some folks have seen results by posting items to their LinkedIn timelines. It's pretty easy to do, and you can post to a group (or several!) at the same time, as you can see in the graphic below. If you tick more than one box (see the ones circled in red), you get options for posting in multiple places at once.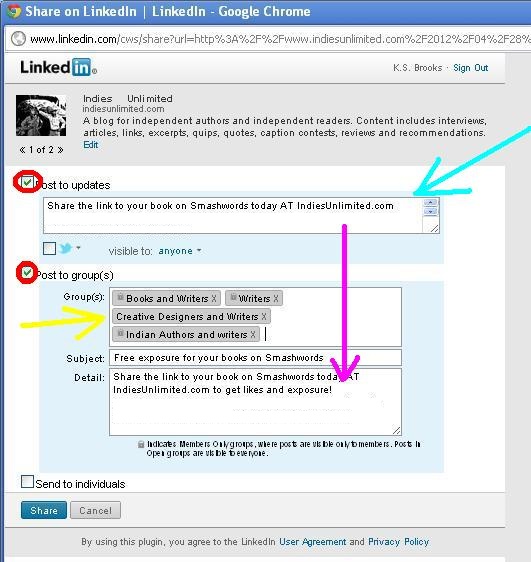 If you're looking for service providers, LinkedIn is a place to start. One author in a Facebook group said she got an invitation to a radio interview via LinkedIn, and another said she has found guests for her podcasts that way.
Some authors have a problem with conflicts of interest. My list of connections on LinkedIn is fairly schizophrenic: I'm connected with lawyers (from my current day job), media types (from my former career in broadcasting), and a whole lot of indie authors and service providers. I used to have my blog feed directly to LinkedIn, until I realized all of my connections could see my posts, and some of them might not convey the professional image I was trying to foster at the day job.
For novelists, LinkedIn's utility appears to be limited. You're not going to find many readers there. And the writers' groups seem to be chock-full of newbies asking the same questions over and over – and in many cases, getting bad advice. You're better off coming to IU for the real scoop on those kinds of things (she said modestly).
But hey, maybe we've missed something. Have you found a terrific use for LinkedIn that we haven't thought of? Please share it below.