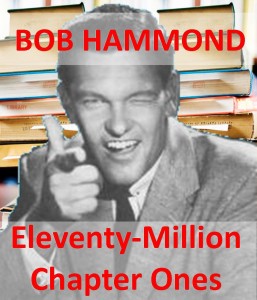 Yes, that's right. Bob Hammond here once again. You all know me as a bestselling author with a larger-than-life personality. That's right. My reputation precedes me.
That's why I have to say, while these folks here at Undies Unlimited sure do have their hearts in the right places, I finally have to put my foot down. On them. You see, being an "Indie" doesn't mean it's okay to sit around in your underwear writing. No sir. Writing should be done whilst wearing a suit and a tie. We're professionals, you know.
So, I have decided to start my own web site to champion and pioneer the way for you little Indies. That's right. I shall call it Indies, Limited, because there will be a dress code. Let's class the joint up a little, shall we?
And to kick off the launch of this new site – which is typographically error-free, by the way – I'm pleased to announce the release of the first new book published under the Indies, Limited label! Yes, that's right, I actually used an exclamation point. Because you need this.
Since I have published eleventy million books, you little Indies may have quite a conundrum on your hands trying to figure out which ones are best for you. Since they're all so incredibly good, of course. So, to make it easy for you, Indies, Limited and I have put together a smorgasbord wrapped in a buffet pushed on a dim sum cart just for you. It contains the chapter ones of all my books, at one low, low price. We're calling it Eleventy-Million Chapter Ones. That's right. Each chapter one has a purchase link at the end of it so you can buy the book that pleases you the most. Ah, the brilliance of that idea. I bet the Undies people here wish they'd thought of it.
So hurry on over to my pioneering new website, Indies, Limited. But make sure you're wearing a tie. We can't be having ruffians running about in their underwear. You're welcome.