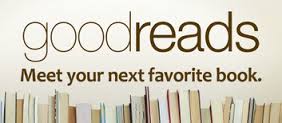 Indies Unlimited has run several posts on marketing strategies for authors on Goodreads, such as this one for beginners,  but the more recently-added "Ask the Author" feature presents even more opportunities for authors.
To find it, visit your Goodreads Author Dashboard. Scroll down past your books to the Ask the Author section.
One of the nice features of the Ask the Author program is that you can pick and choose which questions you'd like to answer (see black arrow below). If you choose not to answer a question, the person who asked will not be notified that you rejected the question. If you're worried about the sorts of questions you may be asked, this should set your mind at ease.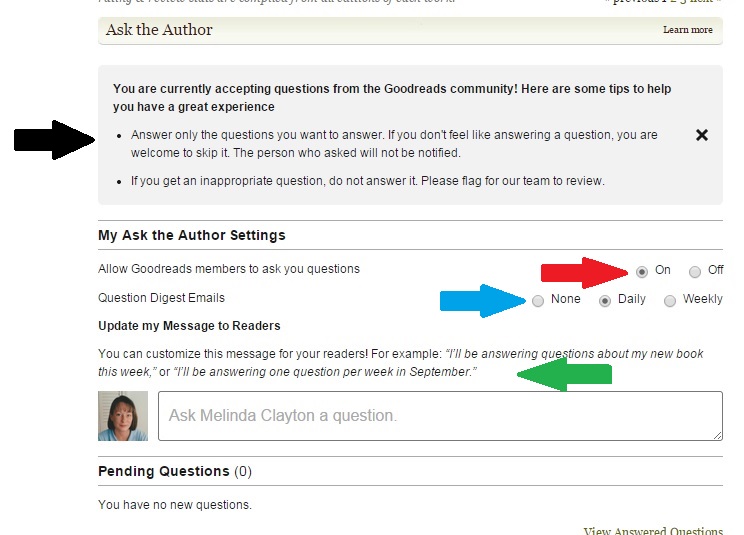 To get started, turn the Ask the Author settings "on" (red arrow above).
Decide how often you want to receive emailed questions (blue arrow above). I chose to receive a daily email.
If you like, you can customize your message to readers (green arrow above). This could be especially nice if you're doing a giveaway and want to encourage interested participants to ask questions about the book.
Once you've turned the option on and established your settings, Goodreads will provide a list of questions to help you get started. They recommend answering 4-5, and they provide quite a few from which to choose, including, "How do you get inspired to write?" Or, "What are you currently working on?" If you don't like any of the provided Goodreads questions, you can submit your own questions and answer those instead.
I've heard authors worry that no one would ever ask a question and they'd feel silly inviting people to connect and getting no takers, but this feature ensures you'll have some questions and answers listed even if no readers decide to participate.
Once you've completed setup, readers and browsers will see your invitation when they visit your Goodreads Author Profile (see yellow arrow below). They can browse the questions you've already answered, or choose to ask a question of their own. One reader/writer chose to ask me some questions about self-publishing, which I was very happy to answer.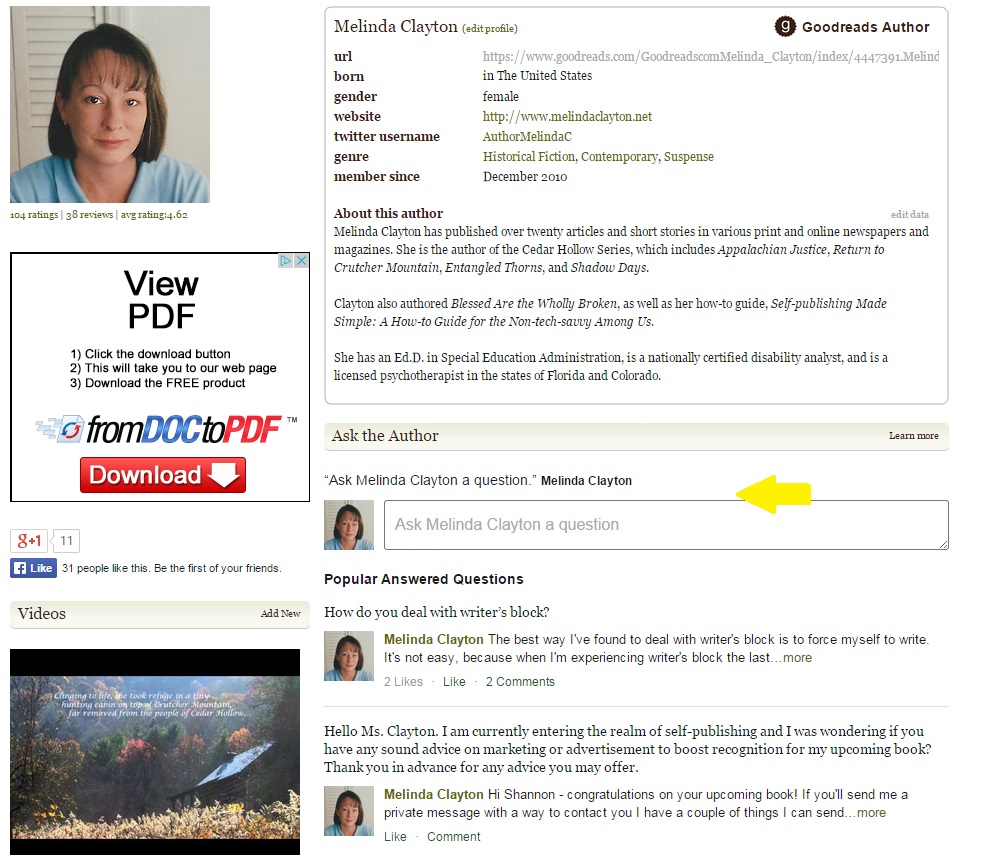 Overall, it's a fun and simple way to connect with readers, meet interesting people, and share information. It's definitely one of my favorite features of the Goodreads Author Program.