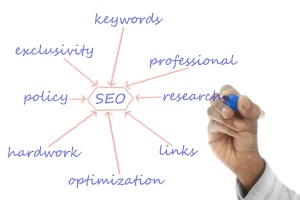 Search Engine Optimization (SEO) is key to raging fans finding your website, brand, and even your books. In my last post, we examined the new Google algorithm that changes everything. You can read about mobile optimization and its impact here. I thought this would be a good time to review what good SEO looks like and bring you up to date on the tweaks you can make to stay visible.
Like most things in technology, the tricks that worked in the past may not work so much in the future. Here are some tactics that are important to keep in mind when optimizing your site.
Keywords – This is an exhaustive process if you do it right. To make things more complicated, now user "intent" should be included in your keywords. Remember, this is not what you think your keywords are but what people are using to find things in your arsenal. We've written about the Google Keyword Planner in the past. This tool can help you retrieve search volume of particular keywords, traffic forecasts for keywords, and suggestions for new keywords. You can find an in-depth post on this process by Carolyn Steele here. If you would like to jump in further, Rank Tracker is a great tool to that is free to download. You can use their "Suggest Keywords" tool that may save you hours of developing quality SEO.
Update your SEO – Now that you have a ton of information on the best keywords for your site or blog, it's time to put it to use. For most people, this is not the fun part. It's tedious but necessary. You'll need to check your site's keywords, descriptions, text anchoring, picture descriptions, and labels to make sure that you're using the latest and greatest keywords.
Mobile vs. Desktop – Keep in mind that many people search for different things depending on the device. It's important to plan for both. You'll find a helpful tool to help you gaze into the future with the Google Keyword Planner mentioned above.
Long-Tail Search – The days are gone when we searched for single keywords. As part of your effort to identify keywords that describe your books, think about how people might search. Instead of "love story" someone might search for "Medieval love story set on another planet." If that is what your book is about, would it show up in search? Be sure to include some of these long-tail search phrases in your website SEO.
Social – Social is a growing part of SEO. Search engines are linking your platforms in social media to your SEO. By having multiple, robust social media platforms with content, you will improve your visibility. Here's the good news, it's more important to have multiple platforms (Facebook, Twitter, Instagram, LinkedIn, Google+, Pinterest) with content than to have actual engagement on the platforms. The search engine bots are looking for content, not how many "likes" and "retweets" you have.
The Future – Now that we've hammered keywords what happens next? Keyword search will change! The word is that at Google they are shifting to rely more on signals rather than keywords. What? After all this time I spent updating my keywords? Nothing is written in stone; this is pure speculation looking at the industry. I believe we will see SEO start moving from content strategy to other more diverse strategies. That means that your book events, press releases, and even contests will have a greater effect on your overall SEO than in the past. This doesn't mean you should not optimize your keywords. If you are thinking ahead of the curve, it's time to consider these other events and their importance in your Google ranking.
Link-Building – Link building is still one of the most important aspects of Google credibility. We've written about this in the past and you can find all the ugly details here in our link-building basics post.
Good SEO is not easy. Keep in mind, good quality content trumps all. Don't drive yourself crazy with every last detail. Ideally, you'll want to pick one or two of the items above to improve upon and get right. Most of all, keep it fun.