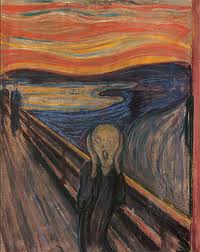 Fear is a killer. When I think back on my life, I am crushed by the things I missed out on because I was afraid. I was a pretty fearless and stupid kid, so that's saying a lot. But there were fears. There were girls I should have kissed. There were trips I should have taken. There were things I should have tried…or been brave enough not to try. I missed so many opportunities because I was afraid.
Fear is a natural human response. Telling someone to stop being afraid is kind of like telling them to stop having the hiccups. Although if you hiccup at someone who is scared, it doesn't cure the fear. So, yes, fear ranks higher than hiccups in the…I don't know what the hell I'm talking about.
Oh, yes.  Fear. Fear is the writer's nemesis. I wake up every day, and I punch fear in the testicles because I know it would do the same thing to me if I let it. I'm going to do some generalizing here. You're going to deal with it because you don't have a choice. Most of the writers I know…the good ones…are plagued with self-doubt. Maybe not all the time, but enough that it slows them down. They let fear take control.
Writers have a lot to be afraid about. Writing is a very personal thing. And you're putting your thoughts and feelings out there for people to embrace, laugh at, degrade, and shit on. And it can HURT. Badly. You can tell me you don't like my shirt. Fine. I didn't make it. It might annoy me, but I deal. But if you hate my novel (and believe me, there are people who will hate what you write no matter how good it is), I have a much harder time not taking that personally.
We are writers. We pride ourselves on what we create. And if someone craps all over what you created, it is going to hurt. Believe it. You probably already know all about it.  Writers are weird. I can get ten 5 star reviews in a week, and all I think about is the one 4 star review and why the reviewer didn't "like my novel".
I am not very vain. You can call me ugly. You can make fun of my baldness. I really don't care that much. I never claimed to be beautiful. But the words. By God, the words are beautiful. They come from someplace deep inside, and I love them. And when they are devalued, it hurts.
I'm not saying I'm the greatest writer of all time. None of us are. If we were, we wouldn't be spending our time on Indies Unlimited…we'd be playing croquet with Michael Chabon. Being the best is irrelevant. Because no matter where you fall on the spectrum of greatness, you did the best you could. (Unless you didn't, in which case you deserve the fear.)
Here's my point. I think we can all agree Kafka was a pretty talented fellow. He was so afraid that he didn't want anyone to read what he wrote. He was a writer. Writers are weird. You can do a lot of things to make yourself a better writer, but telling fear to go to hell is right near the top. You will be afraid to push the envelope…what will people say? You will be afraid to share a story you're not sure about. You will be afraid to let real life into your writing. Or the real you…scars and all. You will have fear dripping out of every pore. Not all the time. But sometimes, sure.
One of the greatest things about being a writer is that you get to do it for a LONG time. Your typing arm isn't gonna go out on you. You won't tear your rotator cuff. It doesn't matter what you look like or smell like. The words matter, that's it. Give yourself the courage to let your words live. If you don't do anything else as a writer, do that. Take a chance. When someone offers you an opportunity, take it. If you screw up, learn from it. If someone trashes something you wrote, let them. You have two choices. You can write, fear be damned and be a writer, or you can call yourself a writer and keep making people read that one story that you got a prize for ten years ago.
Fear is your enemy and it breeds in stasis. Do not rest on your laurels or wallow in your defeats. You don't have time for that. There are more words to be written. Fear doesn't go away, but you don't have to listen to it. There are far more important things to listen to. Like that little voice in your head that says, "what if I tried this…would it work?" That is your 'muse'. And it doesn't listen to fear unless you allow it to.
*     *     *     *     *
 JD Mader is a Contributing Author for Indies Unlimited and author of the novel, JOE CAFÉ. For more information, please see the IU Bio page and his blog:www.jdmader.com.
[subscribe2]