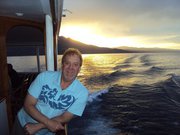 Recruiting top talent for any organization can be a challenge—but that's what animal tranquilizers are for. I am pleased to announce that friend and author Jim Devitt will be joining the staff of Indies Unlimited. You will see Jim's work here every Saturday afternoon.
Jim is well-known in the community of indie authors as a friend and mentor. His writing is outstanding, as is his standing as a champion of indies. he will be a welcome addition to the crew.
Jim is the author of The Card, a #1 best-seller on the Kindle paid titles list, available from Amazon.  He spent eight years working behind the scenes in a Major League clubhouse. He has authored and co-authored numerous peer-reviewed research papers and presented at conferences throughout the country. Be sure to check out his excellent blog. You can also find him on Facebook and and LinkedIn, and follow him on Twitter.
Please join is in giving Jim a warm welcome!
[subscribe2]