J. M. Preiss's first book,  Time Jump, was released on February 12, 2012. It is available exclusively on Amazon.com as part of the Kindle Select Program, and is available for free to Amazon Prime members.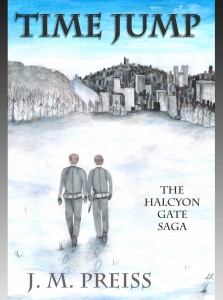 It is the year 2150. An earth shattering experiment is about to take place. Everything has been properly calculated, calibrated, and triple-checked for accuracy. Nothing can go wrong. Jacob Brown and Mason Smith are ready for their mission – they've trained their whole life for it – and nothing is going to stop them from stepping through the gate into the past. At least, this is what Jacob thought. The night before the mission, he knew that the the technology was going to work. He didn't have any jitters or misgivings. He knew he would see his wife again. It was only a matter of time.
Project Halcyon. A great undertaking which is going to propel the Human race to new heights. By stepping through the portal into the past, Jacob and Mason are going to embark on a mission that changes everything.
Having stepped through the portal. It is obvious. Something went wrong. Something went horribly wrong…
Time Jump is the first installment of the Halcyon Gate series and follows Jacob and Mason on their harrowing adventure through time. Just what happens when these two brave men step through the Gate into the past?[subscribe2]