Today we have a sneak peek from Chris Stralyn's suspense thriller, This Time You Lose: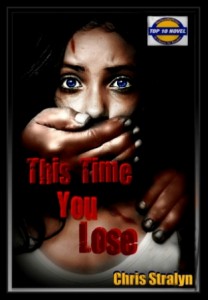 What would you do if street thugs invaded your home? What if you're a daycare provider, caring for a dozen children at the time? Lisa Kaamp faces just such a nightmare in This Time You Lose, the suspense driven story of one woman's struggle to survive when she and the children she cares for become victims of a home invasion gone terribly wrong. Lisa Kaamp operates a small childcare business out of her home in Nogeksum, Michigan. Highly respected and known for going the extra mile for her daycare kids, she thinks she's handled every daycare emergency possible. But nothing prepares her for the horror she now faces. Lisa finds herself bound and gagged, four strange men in her home, and the daycare children held hostage in the next room. Terrorized by her captors as the authorities work to meet the ransom deadline, she tries negotiating with the men for the release of the children, but soon realizes they have no intention of letting anyone go.
This Time You Lose is available for purchase on Amazon.com.
And now, from This Time You Lose:
"It's Lisa!" Kristine whispered. She lifted her cheek from Emily's head and stared out the playroom door. "She's trying to get away!"
Diane scooted to her left, leaned against the doorframe and peeked over her shoulder through the open door. Halfway down the hall Lisa struggled with one of the men. He held her from behind while she kicked and pulled against him, trying to break free.
"Let me see!" Kevin said. He jumped over his mother's outstretched legs and looked into the hallway.
"Kevin! Get away from the door!" Diane nudged him backwards with her head. "Get over behind the toy boxes." She looked over at her niece and daughters. "All you guys, get back by the toy boxes," she ordered.
The children moved to the corner of the room and Diane leaned around the doorframe again. She watched as Lisa broke free and ran down the hallway out of sight toward the kitchen. The man held a hand to his bloodied nose and followed her. A moment later she heard Tito's voice, taunting Lisa. She heard Lisa moan, and the sounds of fists landing punches. Then it was quiet. Diane leaned back against the wall next to the door and looked across the room at the others. They stared back at her. Everyone knew the silence was not a good thing.
Emily swiped the back of her hand under her nose. "What's happening, mommy?"
"Shhh, I don't know honey," Kristine whispered. "Just stay close to me, okay?"
The children all huddled a little closer to their parents, some finding comfort in a lap, others clinging to an arm or a shoulder. All eyes were on the door. Soon Jimmy dragged Lisa's limp body into the room, and Diane gasped in horror.
Renee turned away, screaming. "Oh my God! They killed her! They killed her!"
The children stared, wide-eyed and silent. Jimmy rolled Lisa onto her side, away from the children; but it was too late. They had already seen her battered face. As the initial shock wore off, the children began to wail. Jimmy ducked his head and left the room without a word.
"Is she dead daddy? Is she dead?" Tess sobbed, clinging to her father.
Diane looked at Lisa lying in front of them on the floor. Unconscious, her mouth taped and her hands bound behind her, she was covered in blood. Her bare legs, exposed below her nightshirt, were spotted with clusters of small bruises. Fingertip bruises. Diane was immediately struck with the realization that the men had held Lisa down. Her eyes brimming with tears, she tried to decide if Lisa was still breathing.
"Daddy? Is she dead?" Tess asked again, her arms wrapped tightly around his.
Diane looked at Jeff, and their eyes met briefly as he turned to his daughter. Slowly shaking his head, his voice cracked as he answered her.
"I don't know honey… I don't know."
[subscribe2]