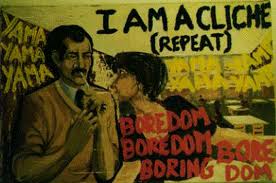 What's a writer for? What good do we do? Do we just march forward, puking our subconscious clutter onto the page – molding it and trying to make it mean something? Some people read it. OK. I always wanted to be a writer. Now, that I am, I sometimes find myself wondering what I want to be now. What's next?
Writers come in all flavors. We have some commonalities. Certainly. We are all worse than our forefathers. Regular people used to write letters better than anything I have ever written. Now we write 'LOL' and have a crapload of emoticons and type over each other in weird chats on FB.
Who can stand a writer? God, we're an obnoxious lot sometimes. The downtrodden, the brilliant who hate what they write. The nimrods who think they are geniuses. The royal trappings we fit ourselves with. The shrug of 'screw it'. No point in writing, but we do it.
I write things for money and some of those things are interesting and some are ridiculous. You have no idea how ridiculous. Unless you are a freelance writer. Then you do. Pays the bills. No frills. Like making a sandwich.
Then there's the writing that seeps out around the edges of my mind when I am not looking. Some of that is OK. And I can write…I did my time. I don't have a huge ego, but I don't doubt my abilities. And if you want to battle, we can. I'd rather not. I'm rather busy.
Why are writers writing? What a weird skill to cultivate. Why aren't we chefs? Everybody eats. Barely anyone reads. My novels pay some bills, but not as much as the SEO articles about plumbing supply chains that I grit my teeth through. So, why do I write fiction when the simple stuff pays better. Ego? I guess so.
Who wants to be a writer now? Anyone can do it, as Antrobus said last week. Which is good. I like it. But I gotta admit, when I was younger I thought it was something special. Being a writer was like being in an exclusive club. Now everyone knows an 'author'.
I get freelance gigs…offers…to write novels for other people. That they can put their name on and pretend they wrote. What is that? If writers are useless what is someone who has someone write for them? I get if you want writing done for your business or whatever, but you really want someone to write a Vampire novel you can pretend you wrote?  Really?
Sometimes I feel like writing is the most wonderful thing in the world. I dig creativity. Art, music, crafts, macaroni paintings…I love people making stuff. And there is a certain masochism in writing. We have no canvas. No paint. We have symbols and words that we can use to paint pictures in other people's minds. Pretty weird. Pretty hard. Cool, though.
I think I'll keep writing. I like it. Even if it means my family can't go to Disneyland. I tell better stories than a lot of Dads. That's something. And I enjoy it. And maybe somebody gets something out of it other than me. I like to think it's not selfish. It is, though. But I'll keep doing it no matter what. Because I'm a writer. And we're kind of like parasites. Too late to change the trajectory now. And even that's a lie. What's a writer for? Hell, if I know. But we know the best jokes. And we can make ourselves happy with a stub of a pencil and a napkin. And not even chimps can do that for long.
PS – I don't know who's artwork that is, and couldn't find out. But don't sue us. I like it.
*     *     *      *     *
JD Mader is a Contributing Author for Indies Unlimited and author of the novels JOE CAFÉ and THE BIKER. For more information, please see the IU Bio page and his blog:www.jdmader.com (and musical nonsense here: JD Mader).
[subscribe2]