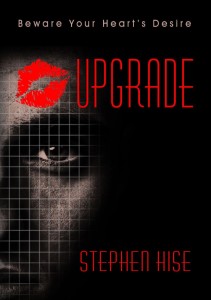 In one corner, you have the fully-bearded JA Konrath, preaching to the Indie masses to make their books more affordable in hopes they can sell more of them, therefore increasing their income. In the other corner, wearing a goatee befitting an evil mastermind, you have Stephen Hise.
Hise is trying a different approach. In fact – he's going in exactly the opposite direction. Stephen Hise today announced he was raising the price of all available versions of his book UPGRADE, on Smashwords, to one million dollars. This makes UPGRADE the most expensive eBook in the world, obliterating the old record held by Nuclear Energy, now on sale at Amazon for a mere $6,232.00.
Asked why he raised the price so dramatically, Hise said, "I read an article by somebody or other who claimed that his sales actually increased after raising the price. I figured if I raised it high enough, I'd only need to sell a couple of copies—half dozen at best."
Mark Coker, Founder, CEO and Chief Author Advocate at Smashwords, could not be reached for comment, although I'm pretty sure he's thinking "I never heard of this guy."
I asked Hise to explain this marketing stratagem. He said, "This is my idea of reverse KDP Select. I make my book available at a much higher price for a very limited window of opportunity. In this way, I cater to the needs of the whimsical ultra-elite super-rich impulse-buyer. I think this is a niche market that has been long overlooked."
Hise feels the extravagant price is justified. He said, "It is quite a good book. Have you seen the reviews?"
This is true. UPGRADE is an excellent book. I was lucky to have read it before the price skyrocketed. I gave UPGRADE 5-stars. You can read my review (dated 12/7/11) here.
Is the pure prestige of owning the world's most expensive eBook something that can even be measured in dollars and cents? By all means, yes. And that price is one million dollars.
Despite his brilliant, eccentric, and somewhat intimidating exterior, I found that Hise was not without sympathy for those who may want the book but are unable to cough up the million bucks. "For anyone who really wants the book but can't afford the million dollar price tag, I have a coupon code they can use to download the book for free. The coupon code is VB55G, good through April 5th, but don't tell anyone, okay?"
Don't worry Mr. Hise. Your secret is safe with me.
[subscribe2]