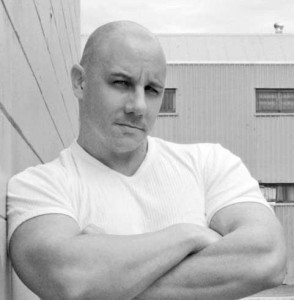 Luke Romyn spent many years, over seventeen in fact, working in the security industry. From door work in some of Australia's roughest pubs and clubs to protecting Mickey Mouse and the Disney crew from the overzealous jaws of tenacious toddlers, Luke has worked throughout Australia and internationally in a vast array of roles.
He's done close protection for UK celebrities in Fiji and chased feral pigs and snakes out of the jungle film sets on Steven Spielberg's and Tom Hank's epic: The Pacific. There are few things Luke hasn't seen.
With all this experience behind him, it would be tempting to write a set of memoirs. Instead, Luke utilized it to fuel his own expansive imagination and began writing fiction. Initially starting with short stories, Luke rapidly progressed onto novels. His first book, THE DARK PATH, has been a Top 20 Bestselling Horror on Amazon and was also voted in the Top Ten Horror novels of 2009. BLACKLISTED, his second novel, saw his writing divert slightly away into the action-thriller genre while his third, BEYOND HADES, is out on 16th April, 2012.
Luke says the most important aspect to any tale is a strong main character. "You don't need to know every nuance of that person, but you definitely need to like them. My characters are all unique, all believable, and all vulnerable. I think people gravitate to these characters, becoming immersed in their lives, and before they know it the adventure has them, dragging them even further into the storyline."
He is constantly learning new aspects of the craft. "I read voraciously, devouring storylines from all kinds of writers, but mainly those from genres similar to mine or who possess aspects I'm trying to strengthen. For instance, at one point I wanted to strengthen my writing an entire story from the point of view of a single character. For this I concentrated on the Harry Potter novels, a far cry from my genres, but a highly successful example of a large storyline told completely from a singular point of view – Harry's."
What part of being an indie author does Luke find most challenging? "The enormous – and I mean freakin' huge – workload that is placed on my shoulders. Everything is dumped into my lap from start to finish, so if something screws up I'm at fault. This would be hard enough if I only had to worry about writing, but unfortunately I need to also focus on my two businesses along with my side job of doing security on the weekends. Yep, being an indie writer is awesome."
He says he deals with this pressure by reminding himself there really is no other option. "I could whine and moan about the unfairness of life or I could simply do what I need to do. I choose the latter. I'm a writer, and my dream is to share my words with the world, so if it's something I have to do in order to succeed, I simply get over it and do the job."
Luke has an enormous online following – around 175000 followers on Twitter and about 5000 on Facebook – so keeping in touch with people really isn't too difficult for him. "I'm usually online at least once a day and try to respond quickly to all queries or simply talk with people about writing or cats or giant falafel iguanas attacking San Francisco. Hell, that's what social media is for, reaching out to people, not just telling them what you had on your sandwich."
He also uses social media to network with other authors. "It's not simply about promoting work, it's about helping others with their writing blocks, floating ideas around, and simply meeting people who hold the same interests. I've met some of the most important people involved in my writing career thus far online and this is on a worldwide scale. The fact you can chat with a publisher in Europe on a non-formal scale about issues happening on the other side of the world is an amazing thing to be able to utilize. I cannot stress enough to writers how important it is to learn how to network properly and not just sit back and moan that it doesn't work. I've had people with 100 followers complain to me that they can't get any more, and when I look at their stream it's all one-way traffic. The world will never come to you, you sometimes have to go to it."
Luke agrees this is an exciting time to be an indie author. "With current technology you never have to leave your computer in order to get your work out there, but it concerns me that so many writers don't feel the need to get their work edited properly. It's like an amateur carpenter building a house and then deciding to do all the electrics himself. While on the surface your home might look okay, at the flick of a switch it can become a flaming marshmallow. The same is true for writing a book. The storyline might be strong, and the spelling and grammar might be perfect, but it just isn't as good as it could be. Ultimately it will be read and forgotten, or worse, torn to shreds by reviewers who don't hold back, and will shatter an already fragile confidence with words that are barbed and dripping with venom."
His advice to aspiring writers? "If you're getting into this for the money, don't. Stop. Punch yourself in the face and go learn how to be a lawyer or something. Those without the heart to go for years without seeing a cent will fall, weeping, along the cracked and broken pavement that each writer treads. That said, if your heart sings with each word written, if the stories scream and howl to be released from within you, if death seems a less traumatic fate that a long life without narrative, then you really have no choice. Write. And pray that one day those pennies grow to fill your purse to such a point that you need do nothing else. Then the dream is yours."
But he also feels there is much more involved in writing beyond mere words. "Learn as much as you can and then study those who have walked this path before you and lived to tell the tale. There are no shortcuts unless you are incredibly, ridiculously lucky – so don't rely on that. Write the very best story you can, edit the hell out of it, edit it some more, ask for help if you need to, pay for professional polishing if you can afford it, decide whether you want to go the indie or traditional route – learn what they are if you don't know – and then, whatever you choose, grow a very, very thick skin. What you have created is something you love, and it will soon come under assault from an uncaring world. But it will all be worth it in the end when someone finally says they loved it."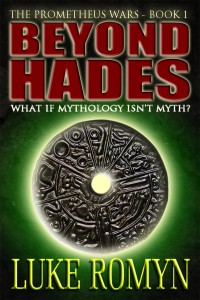 Luke's latest title is BEYOND HADES: What if mythology isn't myth? The ancient Greeks told fabulously detailed stories involving unbelievable creatures – monsters dominating all tales from that time. Were they just highly imaginative, or was their inspiration from somewhere else?
Doctor Talbot Harrison, a professor in archeology, receives a phone call one day which will destroy everything he perceives as reality. His brother has been mysteriously killed and within moments the United States Military appear at his door, literally dragging him from his home. Thrown into a helicopter under intense armed guard, it doesn't take long until they are attacked by something which cannot possibly exist, something drawn to destroy the one man who can stop the beasts from a land beyond Hades….
Click here for an excerpt.
Learn more about Luke Romyn from his Amazon author page, and his blog. You can find him on Facebook and follow him on Twitter @LukeRomyn.
[subscribe2]