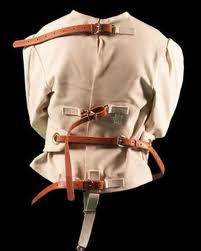 On Tuesday, we looked at physical character description. But there is a much more important aspect to character development…our weird, quirky brains and the weird, quirky things they make us do. Now, I admit, I am biased. My fiction is very character-based, and I think depth of character is more important than almost anything. That's me. You may disagree. That is your right. I must warn you, however, that disagreeing with me will only start you down the path toward a lifetime bereft of joy and full of despair. Because I will find you. Trust me on that.
Now, when you are making a character, you want them to seem real. You also want them to stand out from the other characters. I've read a lot of books where the author feels it necessary to outline every single stupid thing a character thinks. Or maybe the author goes too far into trying to tell you what kind of person the character is. But it doesn't have to be hard. In fact it is quite easy.
When we talked about physical description, my argument was that the things that make us different and unique will stick in a reader's mind much more readily than superficial things. A tattoo of a spider on the side of your character's face is going to make him or her much more 'real' to me than if you tell me he or she has long hair.  Seriously, stop with the hair descriptions. Same goes here, and we do it all the time.
Say you are describing one of your friends to someone. You want them to get a sense of what this person is like. You don't have time to tell them a life story and they don't want to hear it. So you say, "Kevin? Ah, he's a sweet guy. Mellow. Unless you mention religion and then he will go off on a tangent for hours." In that little sentence we learned a lot about Kevin. We may take different things from it, but it's a good character marker and it speaks volumes.
You can say your character is nice, mean, depressed, jealous, blah, blah, blah. My mind just kind of blithely acknowledges these things. They aren't interesting. Lots of people are nice or jealous. Quirks. We want quirks. I have OCD. I do all kinds of weird stuff. But everyone has something that is very telling. Maybe your character has some weird fetish. Maybe your character doesn't like to be touched. Maybe your character only shaves on even numbered days. Maybe your character eats the same thing for lunch every day. Maybe your character refuses to have clocks in the house. Maybe your character likes to follow people without their knowing it. Maybe your character eats cereal with a fork.
Don't explain the quirk (necessarily). The reader will infer certain things about the character based on how you present them. This is why no one ever reads the same book. Reading/writing is a partnership. The reader has to write part of the story based upon their experiences and perceptions. You may not like that as a control freak writer type, but it's the damn truth. You write that Sally had an abortion when she was sixteen and no two readers are going to have the same reaction to that. But that's part of the writer/reader deal.  My novel, Joe Café, involves a character named Chet who is a Vietnam vet (and it affected him). You bet your ass people see Chet differently depending on whether they are pacifists, fought in the war, lost a loved one, etc.
So, give your characters some interesting mental hiccups. And let the chips fall where they may. This is more important than physical description. You don't know me. I gave a description of myself on Tuesday. White. Balding. 6'2". Tattoos. None of those things tell you much about me (the tattoos, sort of, cause that's still a little bit unique and gives you some insight into who I am). But what if I were to tell you that I wash my hands so often the skin dries and cracks and sometimes bleeds? What if I were to tell you that I refuse to discuss anything serious at bed time or I can't sleep? (And I do, ask my wife.) What if I told you that I get songs stuck in my head for weeks sometimes. That I check everything twice before I leave the house. That I can't leave the house until I tell my cat I love him and to hold down the fort or I will spend the whole time I am away crawling out of my skin. I throw salt over my shoulder when I spill some, but I don't believe in superstition. I shower the exact same way, every time I shower. Same things, same numbers, same order. I think about killing myself all the time, but don't want to and never would. It's just something I like to think about…it calms me.  Did those things give you a better insight into who I am than my height?
People are weird and they do weird things. Capitalize on this in your writing. Make your character seem real, distinct, and give the reader a way to get inside their heads. And start paying attention. A lot of people mention that I write very "real" characters (yes, I'm awesome…in fact this whole post was a ruse to pat myself on the back). You want to know why? Because people fascinate me. I read psych books for fun. You're all weird. And I am watching your weird asses 24/7. And taking mental notes. Believe it.
*     *     *     *     *
JD Mader is a Contributing Author for Indies Unlimited and author of the novels JOE CAFÉ and THE BIKER – and co-author of the mighty Bad Book. For more information, please see the IU Bio page and his blog:www.jdmader.com (and musical nonsense here: JD Mader).
[subscribe2]