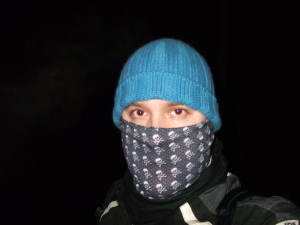 I love Louis CK. He is our Lenny Bruce. There is something about him that makes everything he says funny. He says things that no one else could pull off. It's quite amazing. Do some googling if you haven't heard of him.
I'm thinking about Louis CK this morning because I've started doing an advice column, and it's pretty NOT PG-13. But people like it. My family hates it of course. That is to be expected because it is different hearing your loved one curse (or talk about weird fetishes) than hearing a stranger curse (or talk about weird fetishes). But it raises an interesting dilemma.
I have a pretty foul mouth when appropriate, and I write about some pretty dark stuff. Generally, it is received much more favorably than I anticipate, but it begs the question: am I doing myself a disservice?
Now, the 'darkness', that's pretty non-negotiable. That's what I write. But I could never use another curse word again, and the stories would still be powerful. I could still make them hit home. Sometimes the stories are profanity free – all depends on what the story needs.
Now, here's the thing. Like Mr. Bruce, I tend to find the notion that there are 'good' and 'bad' words pretty ridiculous. I keep it clean on here because them's the rules. But, in my daily life…well, words are words if my daughter is not around. And I find it bizarre that people get weirded out talking about sex – the most natural thing we do.
Bruce's (and I would imagine Louis' and many others) take is that words are only powerful or 'bad' if we let them be that way. It's all in the way you use them. Now, there are a lot of bad names you can call people. I can't say them on here. But I can call someone a jerk, nerd, bastard, etc. We give power to the "bad" words by classifying them as bad.  Americans especially.
This is not a plea to allow swearing on IU. I honestly couldn't care less because I know lots of words and it's not like I am in love love with profanity. I like it. But I like it for the same reason I like the word 'pontificate'. It sounds cool. It has meaning. But there's another important reason I like profanity. How many words can you use as a verb, adjective, and noun? And profanity can make a tepid sentence powerful because, right or wrong, we DO give these words power.
As I said, aside from my family (and my wife's family), no one ever really trips about this. Sometimes I get offended emails from people who find cursing reprehensible. I write thousands of words a day. I've gotten a handful of those emails. Sometimes, I get 'this could be just as good without the cursing'. Sure, maybe. But why the uproar?
Words are constructs. We combine some letters, agree on a general pronunciation, and then we attach meaning to it. I can say shit on here, so, for an example, why does the word 'shit' offend people when the word 'defecate' does not?  They mean the same thing and if you ask me, defecate sounds a lot dirtier than shit.
I don't know. I know there are a lot of people like me. And I guess I am alienating some people by using "bad" words. But maybe I'm attracting other people? I honestly don't know. My daughter is a sharp one, and she asks about these things and I always say there are no 'bad' words, but there are words you don't want to use because people will make assumptions and judgments about you if you do. I am 34. She is 3. I get to use "dirty" words and no one cares. But she's not bald.
The weirdest thing that people tell me is that, as a writer, I should be able to express myself with "clean" (?) words. And that's a valid argument…sort of. I don't have to curse. But writers are some of the most foul-mouthed people in the world. Hmmm….
To me, words become bad when they are used as weapons against REAL people. Otherwise, hell, they're just words. I'd really be interested in your opinion on this, so leave a comment. But keep it clean. If you want to spew profanity at me, you can find me on FB. Bring it on, I can take it.
*     *     *     *     *
JD Mader is a Contributing Author for Indies Unlimited and author of the novels JOE CAFÉ and THE BIKER – and co-author of the mighty Bad Book. For more information, please see the IU Bio page and his blog: www.jdmader.com (and musical nonsense here: JD Mader).  Mader's edgier works can be found at www.blergpop.com.